bars

-These are covered in chocolate
so they are almost like a candy bar! I see them more as a treat than an nutrition bar, but they do provide a nice amount of protein. Oh, and they taste delicious!
Unlike other protein bar manufacturers, NuGo never uses waxy vegetable fat compounds in place of real dark chocolate.
I tried all the flavors ex
cept the Mocha Chocolate, and the
Mint Chocolate Chip
was my favorite. I'm not usually a huge mint-chocolate fan, but something about this bar just made it really tasty. It reminded me of a peppermint patty! It had just the right amount of mint--not too overpowering. The
Peanut Butter Cup one must have been near the mint one in shipping, because it also tasted a little like mint (which I don't think it was supposed to!). The Chocolate Pretzel with Sea Salt and
Chocolate Chocolate Chip
were both really good, and like all the bars they had a nice chocolate flavor and were a little chewy and crunchy.
OCHO Coconut Bar - OCHO Organic Candy Bars so far only makes one vegan flavor, the coconut. I thought this one was really delicious, with a perfect sweetness and lovely coconut flavor that pairs beautifully with the dark chocolate shell.  The flavor was really everything you could hope for. These aren't exactly a low-fat or low-calorie treat, but they are probably better for you than the majority of candy bars out there, if you are craving one. Since they got this bar just right, I hope that in the future they will consider making all of their flavors vegan! 

Erin Baker's Breakfast Cookies

- I tried the  Chocolate Chunk (vegan)  and  Peanut Butter Chocolate Chunk (vegan) . Both were absolutely delicious! The cookies are generously-sized, have a nice boost of protein, and are very satisfying. They almost taste homemade. I think the chocolate peanut butter was my favorite, but it's hard to pick. It would be nice if they used all whole grain flour, but at least the oats in them provide some fiber. I hope they add more vegan flavors in the future! 
 

Funky Monkey Snacks - These are really fun snacks made from 100% freeze-dried fruit. My favorite was the " Applemon " (Apple Cinnamon). I loved how sweet/tart and crispy/chewy they were! I shared these with my brothers, sister, and mom and they all thought they were really good. My one brother LOVES fruit so he was crazy about these. I thought this was a really fun snack, and it's definitely something that kids will love. There is no sugar added, no preservatives, no coloring, no flavoring, and they are a raw food and non-GMO! It looks like some flavors are organic, but not all.

Everyday Gourmet Vegan Bakery
-
Both cookies I tried were diabetic-friendly, meaning that they are sweetened with agave, xylitol, and/or coconut sugar. I really like the fact that this bakery uses alternative sweeteners. That's not something even most vegan bakeries do! They are also wheat-free (not gluten free). These cookies were huge, too. Even though these are made with more wholesome ingredients, I'm not sure I would consider them healthy. But I'm sure they are way better for you than processed, commercial, non-vegan treats. They do pack a lot of calories and fat, but it's okay to indulge once in awhile. It's good to know that when you do, you aren't harming humans (they use fair-trade ingredients) or animals (they're vegan, of course)!
The rest of their stuff looks amazing, too (especially the cakes!).
They ship anywhere in the U.S.! The Fudge Stripe Cookie was dense and cakey. Like I said, these cookies are really big and satisfying. The bottom of this one has a layer of fudgey chocolate, too, and then the top is striped with the same fudge. These kind of reminded me of those other fudge stripe cookies I used to have when I was a kid, except these are WAY better! Chocolate Chip Cookie: I think the one I tried was diabetic-friendly, but I can't seem to find that listing on their website. It might be new. This had a terrific flavor, and the taste and texture is really everything I could hope for in a chocolate chip cookie.   Diet Enhance : "Diet Enhance, offered in a convenient shaker bottle, is a patent pending blend of organic algae and carotenoids." I wasn't really sure to expect with this (the name is kind of vague), but it's basically just a green powder. It doesn't taste great on its own, but a sprinkle here and there on soups, smoothies, salads, and casseroles would be sure to up the nutrition and I think it would blend in more subtly with the other flavors.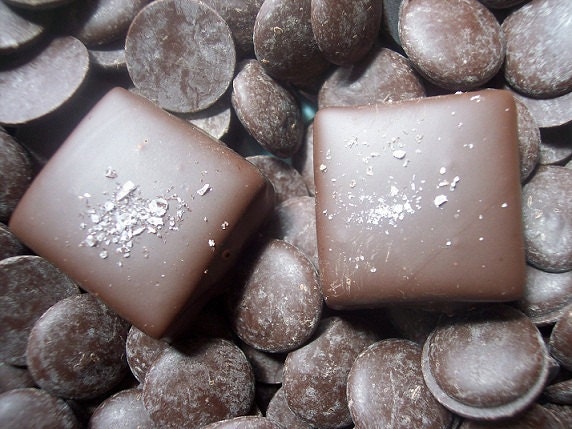 Desiderio Chocolates - They sent me some of their Caramellas (All Natural Vegan Caramels) , which are actually chocolate-covered caramels. Yum! These look beautiful and taste amazing. The chewy caramel is firm at first but it softens as it melts and there are nice notes of dark sugar and a touch of salt. Absolutely delicious! As you can tell, these really impressed me. They were unique yet completely mouth-watering. I would love to try their other treats!

Sun Chlorella -  I tried the Sun Chlorella tablets and granules . The tablets did get stuck in teeth a bit, eaten plain, but I think they would be great for throwing in a smoothie. They taste a little grassy and also a bit like seaweed. I found that I liked the granules a lot better. The individual packets are really handy and I actually think it tastes kind of refreshing mixed with water. This company also sent me some Sun Eleuthero tea and tablets , which I had never heard of. I haven't tried these yet, but they sound intriguing! In addition, I also received a few other products, including the Pet Sun Chlorella and Sun Chlorella Cream . I didn't use the latter because I was a bit iffy on some of the chemicals it contained. If you've never heard of chlorella before, there is a great post on Choosing Raw that explains more about it.  

Thank you to all the companies that sent me products to review!
Disclaimer: All products mentioned in this post were sent to me free of charge for the purpose of reviewing on this blog. I received no monetary compensation.