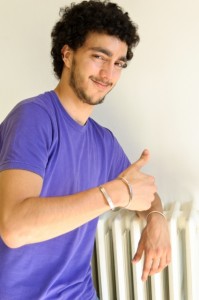 Blogging is a lot like being in a relationship with your boyfriend, girlfriend, husband, or wife. You never really know what the reader wants until you ask. There must be open communication which allows you to know exactly what the reader wants.
Communication cannot be one-way, because the relationship will end up getting boring and eventually will fizzle out.  You don't want to be left alone wondering "What went wrong?"  Keep the relationship hot and fresh by always keeping the lines of communication open.
Write quality content. Quality content is content that is beneficial to the reader and will stand the test of time. With every article that you post, ask yourself, is this article providing value to the reader? Is the reader learning anything from the article? Am I giving my best on every article that I post? Focus on always putting your best foot forward and you will do just fine.
Give your readers what they want. How will you know what your reader wants? Well, that's easy to answer. All you do is ask them. Don't be shy, because you aim to please and to provide your readers with a great experience while they are visiting your blog. Communication is key to any successful relationship and your blog is no exception.
Respond to all comments. Treat your readers like family, actually they are your family (your blog family). You wouldn't ignore your loved ones, so why would you ignore your readers when they leave comments. No one likes one-way conversations, so make it your business to respond to the comments. One-way conversation ends up being just that, a one-way conversation. Don't let your readers talk to themselves because if you do,  you just might find yourself alone in the dark.
Make it easy for readers to share your articles. When you find that special person, you want everyone to know it, right? Well, it is the same for amazing articles. Have a way for your readers to share your articles with the world by including share buttons, such as Twitter , Facebook, StumbleUpon, Delicious and so forth. Sure your articles can be shared, but if you have the buttons before or after the article, your reader is more likely to share you with the world.
Make it easy for readers to communicate with you. Don't make your readers jump through hoops to leave comments.  Everyone has a name and email address, so who can go wrong with that.  Your readers are more likely to respond to your article when it is easy for them to leave their comments.  Always keep this in mind!
Make your blog look good. You like looking fabulous for that special person, so why not have your blog looking fabulous too. It doesn't take much, but one thing is for sure, don't ever over do it. Don't pack on the extras, leaving your readers wanting to scrape a few things off. This might remind you of a lady who lays the make-up on a little too thick. Too much of anything can make things look too made-up and fake. Keep it real, fresh and clean!
How do you keep your blog hot and fresh?
Keep on blogging!