Whole Soy & Co.
soy yogurt is delicious, vegan, and made with organic, non-GMO soybeans! If you are skeptical about non-dairy yogurts, I recommend giving Whole Soy & Co. a try. I have tried several of their flavors and all of them are very tasty! I am having a special giveaway for one lucky winner to get some coupons for free yogurt. There are three ways you can enter. For the mandatory entry, visit their website and come back and comment with what flavor or
recipe
you would like to try. For bonus entries, tweet or share on Facebook (just be sure to leave a separate comment for each entry). This giveaway is open to residents of the U.S. only and will run until Sunday, April 8, 2012.
Kat's Hot Cakes - I tried a sampler pack of some delicious vegan baked goods from this bakery. I really like the fact that they use whole grain flours and a lot of organic ingredients. You can learn more about their products by visiting the Baked Goods Guide on their website. My family and I sampled the mini pumpkin muffins (with mini carob chips), a banana bread mini loaf, a mini orange cake muffin, and a mini carob cake. We  enjoyed all of them. My youngest brother's favorite was the orange cake, my sister and I both really liked the pumpkin muffin and banana bread, my mom liked the carob cake, and another brother couldn't stop raving about the banana bread. So I'd say Kat's products were a definite culinary success. :) These have a wonderfully coarse crumb from the whole wheat flour, which I personally love. Some of the items (especially the orange muffins) were a little dry, but that could've been a result of the transit time. One taster actually said the banana bread was incredibly moist for being made with whole wheat flour! I'm not usually a fan of carob, but the mini carob cake totally won me over (plus, it was adorable)! I really recommend ordering some things from this company (you can have them shipped right to you!). I love the fact that they create baked goods with healthier ingredients that don't compromise on flavor. 

Bakery On Main sent me some of their gluten-free Soft & Chewy Granola Bars . These were really unique and delicious. I love that they use super nutritious grains like quinoa and amaranth. They also include chia and flax for a healthy boost of omega-3s, and they are fairly low in sugar. As for the taste, they are really good and have a pleasing texture--chewy but not tough. I tried the Peanut Butter & Jelly Granola Bar (great combination of strawberry and peanut butter), Cinnamon Apple Granola Bar (wonderful fresh apple flavor. The cinnamon is not too strong), Chocolate Almond Granola Bar (nice flavor and loved the chocolate chips). 

Just Tomatoes, Etc. - I am a huge fan of freeze-dried fruit and this stuff is just amazing. The fruit is so delicious that I think it's better than candy. The great thing is that nothing is added--no sugar, preservatives, or ambiguous flavor enhancers. I tried the Just Strawberries 'n' Bananas (yum, yum, YUM! The fruit flavor was just like fresh but more concentrated and even more tasty), Just Strawberry Powder (perfect for tinting frosting, ice cream, batters, smoothies, strawberry milk…maybe even vegan strawberry marshmallows!  I'm looking forward to experimenting with this), Just Veggies (a great way to get in some extra veggies in; perfect for a healthy and crunchy snack), Just Fruit Munchies (a fun blend of a bunch of fruits--raspberries, blueberries, sour cherries, pineapple, mango, apple. Great sprinkled over cereal for a burst of flavor). They also have organic varieties available. I would love to try more of their products--they are just so darn good!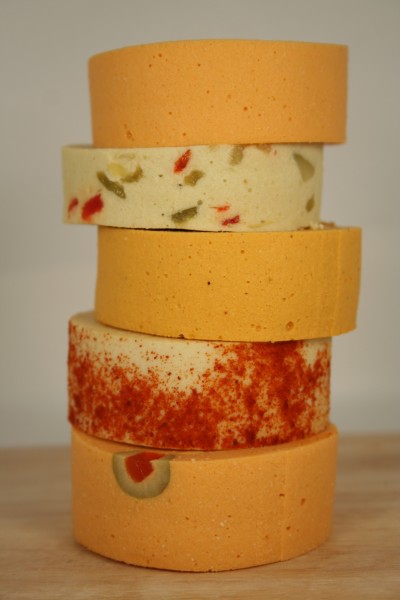 Ste. Martaen Vegan Cheese Alternative - Using agar and cashews, this cheese slices and melts and is delicious! I love how wholesome the ingredients are. Check out the ingredients for the Colby: purified water, agar, organic cashews, nutritional yeast, lemon juice, tahini, sea salt, spices, pimientos, citric acid. See! And the nutritionals are stellar , too. It's gluten-free, soy-free, sugar-free, and cruelty-free! You can even get it sent straight to your house. It doesn't taste exactly like dairy cheese, but it's pretty close. But then again, it's been awhile since I've had cheese…so maybe I've forgotten. Whatever you want to compare it to, the important thing is that it tastes great…even just on a cracker! It also melted wonderfully in a quesadilla. The possibilities are endless! Ste. Martaen Vegan Cheese currently comes in Colby , Smoked Gouda , Pepper Jack , Muenster , and Olive .

 
Amazing Grass - I really love this stuff. It tastes better than pretty much any other green powder I have tried. I thought the Amazing Meal Vanilla Chai Infusion was my favorite, but that was before I tried the Amazing Meal Chocolate Infusion , which is incredibly tasty! When mixed with unsweetened vanilla almond milk, it tastes like chocolate milk. I was actually surprised that these also really did curb my hunger.

I als

o got to try samples of the  other flavors, the ,  Kidz Superfood , Amazing Grass Energy Green SuperFoods packet - Lemon Lime flavor , and more. I have enjoyed all that I have tried so far. I was also sent a Shaker Cup ,which works well for mixing up any of the shakes or drink mixes. While it doesn't replace a healthy diet, I think the Amazing Grass products can definitely be part of one. If you're looking for a convenient way to get a little boost of nutrition, I recommend checking them out!


SuperFood Snacks - I really enjoyed trying their Green Chocolate Dream Energy Nuggets   and Chocolate Cherry Qi Energy Nuggets . My favorite was the Green Chocolate Dream but I liked them  both. These truffle-sized treats are made with very healthy ingredients--you can read more about that here --and are vegan, raw, non-GMO and organic. Another cool thing about this company is that their energy nuggets come in biodegradable packaging that decomposes in about 180 days. I also liked that they were fairly low in fat and high in fiber. I definitely recommend checking these out! They would be perfect to keep around as snacks, take on the trail, or keep in your purse or knapsack when traveling. 


 



Food Should Taste Good - There are so many delicious flavors of these chips, and they even have fun dip-pairing ideas on their website. I tried the Lime (terrific fresh--not fake--lime scent and flavor. I am a huge citrus lover, so naturally that lured me right in. These are light, crispy, and not too salty. The flavor of lime is the perfect balance: it's prominent but not overpowering.), Kettle Corn (I loved this sweet and salty combination, and so did my family), Sweet Potato (great caramel and earthy undertones, and a fun shape.), Salt & Vinegar Sweet Potato Chips (different, but not in a bad way. They are just as salty and vinegary as you would expect, but then with a sweet undertone. They are also super crispy...definitely a plus!), The Works! (I liked the caraway and poppy seed notes and the fact that the garlic/onion flavor was not too overpowering).

Conscious Box is a program you can sign up for, give as a gift, or just purchase month-by-month. What they do is hand-pick some natural products, pack it up in a pretty box, and mail it to your doorstep. It's a great way to find out about new products on the market and it's especially fun if you just enjoy trying new things. The products are not specifically vegan, but many of them are. In the March box that I received all but three things were vegan. I thought this was really fun to get in the mail and unpack. It's exciting because you don't know exactly just what you will get. Just to give you an idea for some of the things I received: a snack size bag of Crunchmaster Multi-Grain Crackers in Sea Salt flavor (these were really good! I would definitely buy them at the store. They are also gluten free and low in fat.), a tin of Tea Fortes MinTeas in Ginger Pear   (sugar free, all natural, organic mints made with Fair Trade tea), a snack size bag of RW Garcia MixtBag Yellow & Blue Corn Tortilla Chips , a packet of Healthy To Go Acai Natural Energy Boost , zinnia flower seeds, and more. It also came with some web coupons and a card explaining the theme of that month's box and the products contained therein. 

 
Raw Melissa - These macaroons were incredible! Really, so good. The flavor was mouthwatering. I can't decide which flavor I like more--the Vanilla Macaroons or Chocolate Covered Macaroons . YUM! She also sent me a copy of her book, FAVES: Fruits and Veggies, Energy's Secret . This petite little volume features chef Melissa Chapell's favorite recipes using fresh ingredients. I want to try the Lime Mango Smoothie (88) and Cinnamon Ginger Orange Smoothie (83), both of which sound delicious! (Please note that some recipes in the book include honey; I would sub agave syrup, maple syrup, or brown rice nectar to make it vegan.)

Pure Glass Bottle - I really love this bottle, and it's a pretty genius concept. What it is is a glass bottle that is coated in a transparent BPA-free rubbery outside layer. That part never even touches your water, but it does provide it a lot more protection against shattering. If it did happen to shatter, all the messy glass would be contained in that coating. Glass water bottles are my preferred BPA-free alternative, and when I'm not using an empty kombucha bottle (those labels are pesky to get off!), this is what I reach for. It also features a screw-off top that at first I thought was weird, but now I really like it. It make it easy to fill the water bottle without spilling and it is handy for adding things like ice, mint, or lemon. I tried out the 17.5 oz. size (the Traveler), but it also comes in a larger and different design that holds 25 oz. (the Explorer). The Traveler size fits into most vehicle cup-holders, and because the lid part is plastic (BPA-free, of course) you don't have to worry about chipping your teeth on the glass if you reach for a drink when, say, running.
Mama Micki's - These are some of the best vegan cookies I've ever sampled. So many cookies--vegan or otherwise--are either gummy, hard and crunchy, or dense and cakey. I can appreciate both chewy and cakey cookies, but in my opinion the perfect consistency lies somewhere in between--a slightly crispy exterior with a pliable melt-in-your-moth interior. Mama Micki's gets it just right, with cookies that really taste homemade. Perfection!  I tried the Vegan Molasses Cookies (great crackle, a nice size, and a wonderfully rich, spicy flavor. I shared these with my dad--who is not vegan--and he loved them. I highly recommend these.) and the Vegan Chocolate Orange Cookies with Walnuts (I loved this unique flavor combination and refreshing spin on basic chocolate. They are different, but good!) There are 6 cookies per package, contain no refined sugars, and look to be made  with organic ingredients whenever possible. If you decide to order from Mama Micki's, keep in mind that not all her offerings are vegan; just make sure it is specifically labeled as such and you can't go wrong! 


I hope you enjoyed reading about these great vegan products. Thank you to everyone who sent me products to review! 


Disclaimer: All products mentioned in this post were sent to me free of charge for the purpose of reviewing on this blog. I received no monetary compensation.