I feel like I have been MIA, so I wanted to give you a quick update on my weekend. However, it is almost 10:00 on Sunday night and I am feeling the crash from the weekend creeping up on me.
I had an amazing weekend and finally got to meet some amazing friends.
I am actually going to give you the link to Leah's blog (she is a fabulous blogger and fellow
Sweat Pink Ambassador
), she did a great job recapping the entire weekend.
And
here
is where you will find her.
After a 3 hour drive (2 of which were spent changing the radio station and wondering why you can ALWAYS get country music?! Sorry, I am not a fan...) I made it to Ft. Wayne.
I have 'known' these girls for about 6 months, but have never met them in person.
It was so great to finally meet them both, I can not even put it into words.
I would not trade my girls for anything!
Leah, me and Sara with our Bibs.
We were excited about the expo, but it was a bust...Kind of lame, but at least we saved some money, right?!
We had a great evening, lots of laughs and a bit of pre-race jitters, I suppose.
Saturday was race day!
This was my 6th race since I started running (May 2012)and my first 4-miler. I have only ever done 5k races, even though my long runs are now 6 miles.
It was 45 degrees out and I didn't get much sleep, so I wasn't sure how it would all play out.
I have to say Ft. Wayne and the Fort4Fitness directors and volunteers were amazing! The entire set up and race were run so well. It was very organized, I was truly impressed! They had a total of 5 events, Kids & Seniors 1 mile on Friday and the 4-mile, 10k and Half Marathon on Saturday. There were just under 10,000 people participating in the 5 events combined. The start times were staggered and it all went very smooth.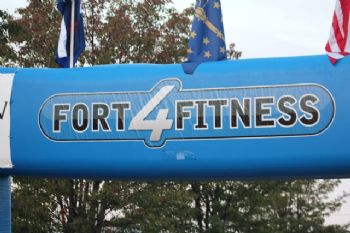 Despite the early morning...
I had my own cheerleader (and photographer!)