Canary Confectionery
- First of all, isn't the name and logo for this Chicago-based bakery cute? Everything they make is vegan (of course) and gluten-free. I had never tried any gluten-free cookies or brownies, so I enjoyed getting a chance to sample them. It is great that more and more gluten free stuff is available for people with sensitivities. And of course I love that all of their products are also cruelty-free. I tried the
Raspberry Truffles
(these practically melt in your mouth!), a
Chocolate Chip Cookie
, a
Sugar Cookie
, a
Chocolate-Drizzled Raspberry Brownie
, and a
Chocolate-Dipped Brownie
. If I had to pick a favorite it would probably be one of the brownies. I loved how they were dipped in chocolate. Speaking of chocolate, the cocoa flavor of these was really rich and delicious. They also have a beautiful presentation. I also liked how the size of these is also just right. Be sure to check this company out
online
, or if you are ever in Chicago.
Bumble Bar
- Despite the name, these are vegan (and also gluten-free)! Check out
this funny video
to learn more about what makes these bars unique. I tried the Junior Bars in
Amazing Almond
,
Original Peanut
,
Chocolate Crisp
. They were all really good, but the chocolate or peanut were probably my favorite. These are very seedy bars and they taste a lot like sesame (the main ingredient is sesame seeds). It was a little different at first, but I thought they were pretty good. I also like the fact that they aren't heavily processed and don't include any fake ingredients.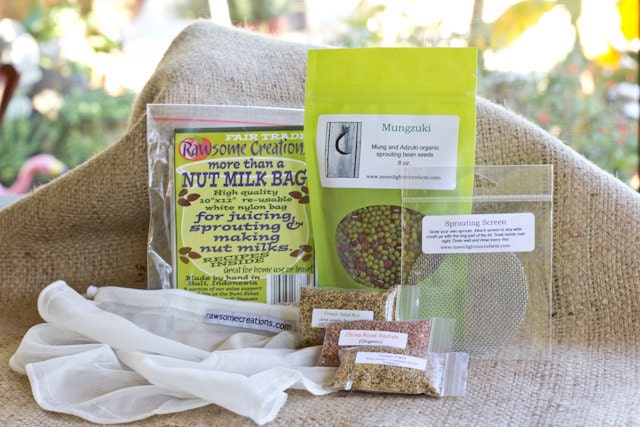 Moonlight Micro-Farm - With spring just around the corner, this the perfect time to plan your garden. This Etsy store has a wonderful array of heirloom and organic seeds. I really encourage you to check out the site if you are a gardener. Everything is beautifully photographed with lots of helpful information provided. You can also visit them on Facebook . If you are impatient for the growing season to begin and are craving something fresh and homegrown, check out the sprouting seeds and kits they offer. That's what I tried out. Sprouting is one of those things that sounds intimidating but really isn't. It doesn't take much work at all, and in less than a week you will be eating fresh, crunchy sprouts! It's also a wonderful feeling in the dead of winter (or anytime!) to see the dormant seeds spring to life with just a little care. My favorite mixes of seeds that I tried were the French Salad Mix and Clover Field. These are both very versatile sprouts that work for a variety of recipes--in sandwiches, on salads, as a garnish on soups, in smoothies or juices, in wraps or stir-fries…I even like them eaten plain! I also sampled the China Rose Radish seeds, a nut milk bag (use to sprout seeds, make your own nut milk, strain vegan yogurt, make cashew cheese, etc.), the Organic Lentil Trio  (I just harvested these the other day!), and the sprouting screen (just fit this over a wide-mouth canning jar and that is what you can use to grow your seeds! It's a simple tool that keeps the seeds from falling through when you drain them). So what are you waiting for? Get sprouting! (Or, if sprouting still isn't your thing, check out all the wonderful garden seeds they offer!)

NuNaturals Stevia
 - NuNaturals has been my go-to stevia brand for a couple years now. I love the variety of
products they offer, which makes using less sugar even easier. I like to use the
liquid stevia drops
for things like smoothies and shakes, where I can add a few drops and then taste.
The
packets
are very versatile and I use them for all kinds of things--from subbing the sweetener in a dressing or soup (sometimes recipes just call for a little bit, and in that case I like to use stevia) to making lemonade. I treat each packet as about equal to 1 T. of sugar, but I'm not sure if that is the exact conversion. I just find it works well for most recipes when substituting. The
baking blend
is probably one of my favorite products they offer, because it makes baking really easy--just sub one-to-one for sugar! I also like the
stevia extract
for baking. I find it works great in things like quick breads. I have experimented quite a bit with stevia, and one thing that I have found when baking with it is to mix it with a different sugar or sweet fruit. I do sometimes use all stevia to sweeten my baked good, but usually only if the recipe includes some fruit like dates, bananas, apples or pineapples. I find that this makes it taste better than either would alone. I also will sometimes just sub 1/4 or 1/2 or 3/4 of the sugar in a recipe for stevia. Doing it gradually like that is a great way to cut back on the sugar without affecting the recipe much. If you are new to stevia, I would encourage you to experiment and see what you like. A great place to start is with the
many recipes
that NuNaturals offers on their site.


Endangered Species Chocolate
-
All of their products that I have tried so far have been delicious, but
All-Natural Dark Chocolate with Mint
bar is easily my favorite. It's such a perfect pairing of deep chocolate and refreshing mint. As I mentioned previously, I have also enjoyed baking with chocolate bars lately. With this bar I made Dreena Burton's Chocolate Mint Melties from her book Eat, Drink & Be Vegan . These cookies actually suggest this bar in the recipe. Let me tell you, they are amazing! I've made them several times already (I make a half batch at a time) and I just love them. I am on a real mint-chocolate kick right now, so it's not surprising that I'm crazy about this bar. I also enjoyed the
All-Natural Dark Chocolate with Cranberries and Almonds
bar. I mean, it's chocolate, cranberries, and almonds…how could you go wrong? Finally, I received their
Organic Dark Chocolate
bar, which is from a different line and thus smaller than the rest. However, it promises to be perfect for dark chocolate cravings. I haven't tried it yet, but I am actually thinking of doing another baking experiment with it. Quality chocolate can really take so many recipes to the next level. I encourage you to give it a try. Get creative!
Erewhon Cereals
- I love freeze-dried strawberries, so the
Strawberry Crisp
cereal was naturally a favorite. The flakes were just lightly sweetened and paired well with the berries. One thing that most people would probably love about this cereal is that the flakes stay crunchy and hard and don't get soggy from the milk. However, I'm one of those weird people who likes her cereal to get a little softened! But thankfully that didn't stop me from enjoying this cereal. I also received some
Corn Flakes
, which I have yet to try. I keep meaning to make a dessert of some sort with them--perhaps a vegan version of the marshmallow ones my mom used to make (similar to rice crispy treats)? I have loved all of Erewhon's products so far, so I'm sure these won't disappoint! I love that both cereals are organic and gluten-free, and that they are made with such simple ingredients. For example, the only things in the corn flakes are organic milled corn and sea salt!
Sugar in the Raw
-
I have used the
Sugar in the Raw
from this company for years, but just recently have I become aware that they now offer both
Agave in the Raw
(a wonderful liquid sweetener) and
Stevia in the Raw
. The great thing about these brands is
that they are very readily available. Most big chain grocery stores around where I live now carry these products. The stevia is available both as a
cup for cup
substitute for sugar and in
packets
. I love the convenience of both products (the former is perfect for baking and the latter is wonderful for portable or individual sweetening). I look forward to experimenting more with this brand. Next time you are in the store look around for it near the sugar and baking aisle.
Rhythm Superfoods

- Everything they make is raw, vegan, gluten-free, and non-GMO.  My favorite thing I tried was the kale chips--both the Zesty Nacho Kale Chips and Mango Habanero Kale Chips were incredibly delicious. I loved that they really did have sort of a sour/cheesy flavor and that the habanero ones weren't too spicy. I thought they were pretty near perfect. I now really want to try the other flavors (especially Kool Ranch--that sounds amazing)! These are made with high quality ingredients, and both the taste and the nutrition facts reveal that. Their sweet potato chips--I tried the Hickory BBQ Sweet Potato Chips and Sea Salt Sweet Potato Chips --were also very yummy. These are basically just dehydrated, seasoned organic sweet potatoes, so they are really healthy. They are fat free and the whole bag of Sea Salt ones is only 100 calories. Pretty awesome when you compare that to regular old potato chips. As you can tell, I loved trying this company's products. I really recommend checking them out. Especially the kale chips, and especially if you think you don't like kale!
Thank you to all the companies that sent me products to review!

Disclaimer: All products mentioned in this post were sent to me free of charge for the purpose of reviewing on this blog. I received no monetary compensation. These samples were not unsolicited.