First off, Happy National Running Day!
Secondly, sorry for such sporadic posting, I didn't get home until after 10PM the last two nights, and my brain is usually mush by then!
And on to the Italian Upgrades:
So many people asked me for healthy italian recipes! I love Italian and my mama is 100% italian, so I grew up eating it at every family gathering and holiday—except thanksgiving. I almost don't know where to start with this post, but I will do my best!
First off, I think pasta gets almost as bad a rap as pizza, and very unfairly so! While I don't always believe a calorie is a calorie, when you are comparing two whole grain, minimally processed foods, they can be comparable. So let's look at a whole grain cup of pasta versus a whole grain cup of cereal such as shredded wheat squares. They both have around 200 calories a cup and in the neighborhood of 8 grams of fiber. Add sauce and veggies or milk and fruit and you are still about even nutritionally. And yet most people seem to feel guilty about pasta and virtuous about cereal. While I love both, I often take the lazy girl's cereal dinner route, and one cup almost always leads to two, but with pasta one piping hot bowl takes longer to eat, feels like a meal and is much more satisfying in the long run. Hmmm…why is it that I only make pasta once every two blue moons?
Anyways, here are my first recommendations if you have trouble with pasta portion control. Only cook one serving! It is way more complicated to reboil water and cook more pasta than it is to pour a bowl of cereal, so if you begin with the end in mind, you are already ahead. One serving of dry pasta is roughly the size of a quarter—if you stack the pasta on top. Or you can buy one of these: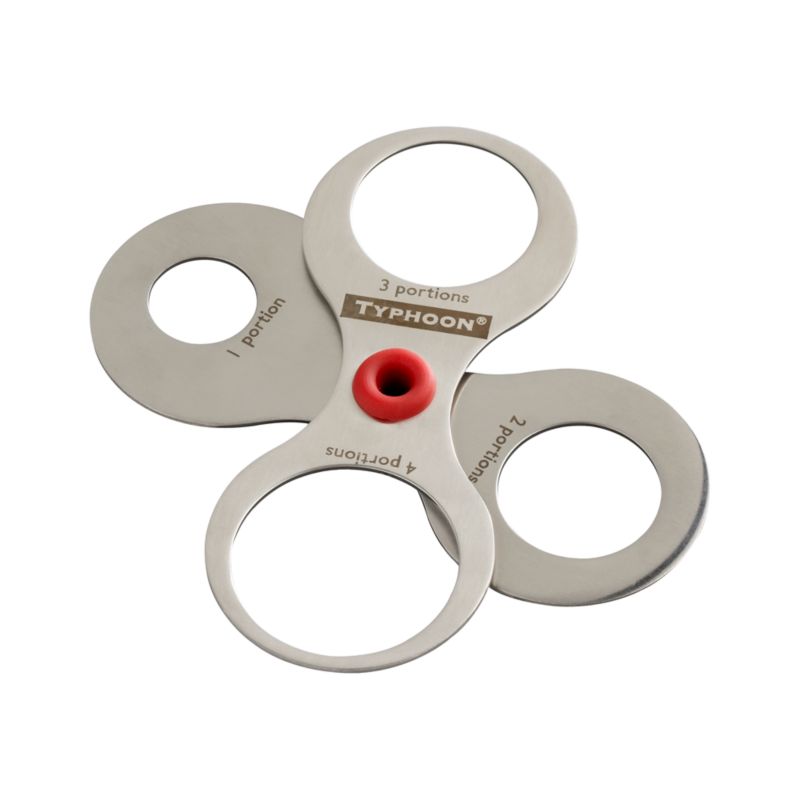 Next, I will share some of observations from my Italian cousins, who live in Italy, never diet, and, as they live on the Alfami Coast, always have their beach bodies ready for sunbathing.
Probably the first thing I noticed was how important the quality of every single piece of food in their kitchen was to them. Assembling a meal involved a multitude of different store, stands and vendors because each one has a specialty. There is a place to buy the best fruit, the best tomatoes, the best veggies, the best bread, the best cheese, the best pastry…and it is worth it to spend the extra time to seek out what can only be considered molto bene! Honestly, I had never had such huge amazing fruit in my life! Next, I would say balance was very important. My cousin said that as she has gotten into her thirties she has been able to stay at the same weight as in her twenties simply by eating pasta only once a day (so skipping it at one of her meals, it was served at lunch and dinner) and making sure to focus the other meal around protein, veggies and healthy fat…or course an afternoon or evening gelato is still allowed, but most nights fruit was the dessert on the menu.
Finally, I would say especially in southern Italy, simplicity is important. Salad have just a few exquisitely fresh ingredients, dressed simply in high quality oils and vinegars. Freshly sliced tomatoes are the showcase of a plate, enhanced only by a drizzle of evoo, sea salt and freshly ground pepper. The freshest water-packed cheese is sliced on a plate to be enjoyed in their pure form, not hidden under layers of bread. I also noticed they would have a different cheese every night, but only one kind at a time, so you could appreciate that one flavor and not need five slices to feel like you had experienced the cheese platter. I think just the beauty of the elegant, yet simple prosciutto wrapped melon, is emblematic of the easy elegance of the Mediterranean lifestyle.
I have to say it always shocks me how I can consume so much pasta, wine, bread, oil and gelato in Italy and come backas much as 5 lbs. lighter every single time! Quality, simplicity and balance are key to everyday indulgence.
I guess this is a good point to discuss how to incorporate the Italian mantras into your Italian American dining reality. I think the nutritionist's perspective would be to tell you to order a salad or soup as a starter and a protein appetizer such as muscles or a fish and veggies entree for your main course. However, I don't think that is always the most satisfying option when you are dining out. In fact, because I enjoy homemade pasta so much, I really save my pasta meals for when I am out and go for the white flour pasta in moderation, this is probably once every 2-3 months.
My philosophy is to make a few choices when dining italian, pick the two things you want the most of the following: wine, bread, pasta, dessert. And enjoy those TWO in moderation, no need to lick the plate clean. If I go with wine, I keep it to one glass, any more, and I am too full to enjoy my food. If I go with dessert, I split is as many ways as possible. Of course a salad or side of steamed spinach is always a great thing to order to help round out your meal and fill you up. When I order pasta, I typically go with something absolutely loaded with veggies and stick to marinara sauce. I also find that if I eat several bites of veggies for every one bite of pasta, I can keep my pasta consumption in check, but seem to enjoy every bite even more. Sometimes I choose mussels fra divalo over angel hair instead of veggies, and do the same thing. I am also pretty generous with the parmesano reggiano, it adds a ton of flavor (and protein and calcium) with minimal fat and calories compared to other cheese options. Red pepper flakes and freshly ground pepper, if you like them, are also a great choice to amp up the flavor. But that's just me, do what works for you.
So now for some recipes and products!
I highly recommend Good Housekeeping for recipes around a theme ingredient. They have had several light pasta recipe features. Just a note, many of the GH recipes call for more than a cup of pasta per person, I think that a cup per person is plenty, so adjust as you feel necessary—feel free to add extra veggies though.
Penne with Peas, Grape Tomatoes and Ricotta
Whole Grain Rotini with Asparagus and Snap Peas
Cod Fra Divalo
Trattoria Style Shrimp Fettuccine
Pasta Toss with Summer Basil
Macaroni and Cheese on the Light Side
Cauliflower Mac in Cheese (Shape)
As for one of my own recipes, as I said I don't make pasta much, but when I do, I accept no substitutes. I just can't get down with tofu noodles, and while I love spaghetti squash, I don't consider it spaghetti. It also took me a while to get on board with whole grain pasta, but the texture is finally starting to improve for most brands. Most recently, I tried the Barilla Plus Whole Grain Blend Cappellini. It was quite good.
I made some pasta primevera especially for this post and also the night before the Brooklyn Half. Sushi is actually my typical pre-race fuel.
I eyeballed a quarter-size amount of dry whole wheat blend cappellini, which I tossed with some left over grilled zucchini, squash and peppers. Instead of sauce, I used some Sabra's Caponata Dip. Once the pasta was cooked, I added it to the reheated veggies and sauce added fresh baby spinach and about an ounce of fresh mozzarella. With some garlic, pepper and red pepper flakes, it was easy and very yummy!
I would estimate I came out a little shy of a cup of pasta, but once I added all the veggies, it ended up being a huge and filling serving!
My general rule of thumb for pasta at home–I don't actually measure anything, but a visual estimate: ~1 cup whole grain pasta+2 cups veggies+1/2 cup natural tomato sauce without added sugar+1 ounce high quality or low fat cheese+garlic, S+P, red pepper flakes+oregano.
A lot of people asked for healthy lasagna recipes! I have to say, the best lasagna I have ever made (and I have made quite a few) was a roasted vegetable and goat cheese lasagna, quite similar to this Martha recipe. It was amazing!
However, if you are cooking for one like me, it's an awful lot of work to make a lasagna for yourself, and then have to eat it for the next two weeks. So I would like to recommend a good frozen option, Michael Angelo's Natural Vegetable Lasanga. I eat maybe one frozen meal a month, and boy this one was a good one! The ingredients list is great, all organic vegetables, a whole grain blend pasta, and natural sheeps milk cheese. Everything on the list is something you would use if you were making a lasagna yourself. It is definitely an upgrade from the Smart Ones Lasagna Florentine that I used to eat all the time in high school, but has a ton of sodium and about a million quasi-sketch ingredients.
Chock full of veggies and hot melty cheese!
This clocks in around 270 calories, 11 grams fat, 15 grams protein and 5 grams fiber.
I covered this in an older post, but for those looking for eggplant parmesan or chicken parmesan recipes, I recommend Ellie Kriegar's Chicken Parmesan recipe.
If using chicken make sure to pound it to get that nice, thin restaurant quality. With eggplant, slice around 1/4 inch thick and take the time to salt, rinse and dry the eggplant first–it helps get rid of any bitterness.