Tay had been to a restaurant on another trip that she couldn't stop raving about, so of course we had to try it out.



The Queen of Tarts it was! Unfortunately, because of our early breakfast we arrived before they started serving lunch. But luckily the waitress let us order some coffee and sit on the patio for a bit perusing the menu, until lunch service was open. I went with the spinach and brie tart, and oh.my.gosh was it good!! Seriously still dreaming about this meal.

From there, we were fueled up and ready to go. We wanted to do a distillery or brewery tour, since we were in the land of drinkers, and decided to venture to Jameson to see their Irish whiskey. We are Kentucky girls after all!



Unfortunately, Jameson is no longer a working distillery, so we were a little disappointed. While we still enjoyed learning about how whiskey is made, we didn't get to see any of the actual working machinery! I guess we are just spoiled by the KY Bourbon trail.


Taylor patting the stone for good luck

Didn't stop us from enjoying a little taste afterwards though!



After Jameson, we dropped Taylor at a coffeeshop and Deb and I headed over to tour the famous Trinity College library, where the Book of Kells is held. Along the way, we saw the Christ Church Cathedral.



The Book of Kells is an old Latin copy of the four Gospels (Matthew, Mark, Luke and John), dating from around 800 A.D. It was so neat to be in the presence of such an old, and ornately decorated, copy of the Gospels!


We saw a graduation happening!

But my favorite part of the tour was what came next: the Trinity College, home to the famous Long Room. It is just what it sounds like - a long room, filled with floor-to-ceiling massive stacks of ancient books.


(Photo Credit: www.curiousexpeditions.org )
I had a serious book-nerd moment, and was overcome by emotion. The smell, the piles of dusty books, the history - I almost teared up a little bit! It is places like this that confirm my love of books, and of great literature. My children will be raised to love a good library too!

After I had soaked in the beauty for awhile, we headed back to find Taylor again. She had emailed, emailed, and emailed some more (the life of a torch-bearer is very exciting), and was ready to set off for some more walking.

Something you should know about Taylor - she has a fabulous sense of directions! Having been to Dublin before, she knew of a few sights to show us before we got hungry for dinner. We saw her favorite bridge, shaped like a harp - the symbol of Ireland - and a really neat park down by the water.



By this point, we were hungry. And tired. So we headed back to the Queen of Tarts, and popped into the Italian restaurant next door. It had come recommended by the owner of our B&B. I had a good pasta dish to replenish all of the cars I burned off with the day's walking!

After dinner, we strolled down Temple Bar, Dublin's famous street filled with (you guessed it) bars, and home to lots of live music. Unfortunately, we were too tired to take advantage of it, but at least we saw it!



The next day, Saturday, we woke up early again (although not at 3:30 this time, thank goodness) and hopped a train over to the west coast of Ireland, to Killarney. Deb and I had plans to take a bus tour of the Ring of Kerry, a scenic area of Ireland's countryside and coast! Since Taylor had already been on the tour on a previous visit, she stayed behind at our apartment to rest and get some work done.

Our bus driver was funny, informative - and very Irish. I learned all kinds of things! One fact would have been helpful to know before we set off on our car trip: on the road signs, N (as in N-71) stands for National, M stands for motorway, and R stands for Regional. We also learned that tourism is Killarney's number one money maker, and any town starting with "Kill" means "church of". Pretty cool!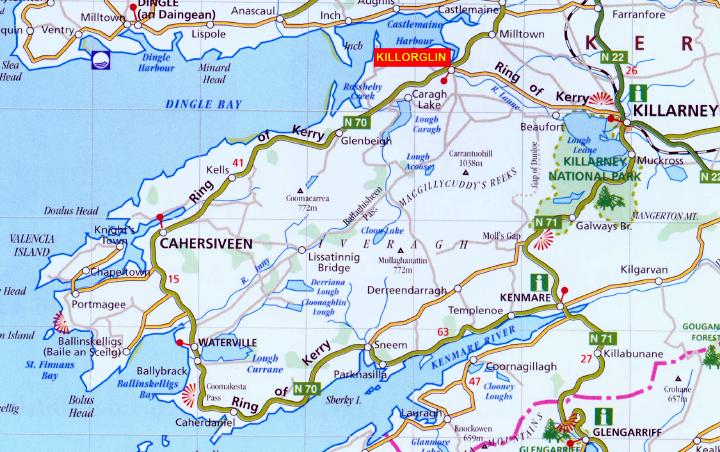 (Photo credit: www.holidayskerry.com )
We drove through the town of Killorglin, then made our first stop at the Kerry Bog Village. Instead of paying to go see the little houses, we used the time to take some pictures, use the restroom - and shop. Per usual.



From there, we drove on and made a stop along the side of the road to see the Dingle Bay and Dingle Peninsula.



Then it was off to one of my favorite stops on the tour, to meet with a shepherd and learn about herding sheep! He showed us the different sheep varieties and discussed what exactly those varieties are used for. Then the real fun began - we learned how he trains the sheep dogs to herd sheep!



Each dog has its own set of four different signals, given vocally if nearby and by whistle if far away, to signify going forward, stopping, moving left, and moving right. These particular dogs were border collies, and the sheep were Scotch mountain sheep (their fur is used to make tweed fabrics).



He had the dogs herd those sheep all over the place - it was way cool to see!



After the sheep, we made another brief stop near the town of Cahirciveen to see the Ballinskelligs Bay.



Then it was lunchtime! We stopped at the Scarriff Inn, a cool place overlooking the water from the top of the ridge. I went with an Irish classic, bacon and cabbage served with potatoes in a parsley sauce. It was pretty good, and reminded me of Sarah's big Irish feast that she made for us back in March after our race !



From there, we stopped again to see the White Strand beach...



and the Black Valley and the Macgillycuddy's Ridge.



We also made a brief shopping stop again, and I picked up a pretty Irish scarf!

Our last big stop was at Ladies View, a site in the Killarney National Park made famous when Queen Victoria and her Ladies-in-waiting visited in 1861. I can see why they loved it so much!



The bus brought us back to Killarney, and was supposed to drop us off (with our luggage) near our lodgings. Key word being supposed. In reality, the bus driver misread the street and dropped us off - without a map - over a mile away. In the rain. Needless to say, we were in a pleasant mood when we found Taylor! But we pulled it together, and were soon ready to head out into Killarney for the night.



We walked the streets for a bit, then ducked into the nearest restaurant when it started to rain. Taylor and I each got soup (that cold Irish had us chilled!) and shared a salad.



From there, we made our way to a pub playing Irish music! Deb and I each got an Irish coffee (couldn't leave home before trying one), and Taylor got a beer. We also met some crazy ladies from Arkansas who kept trying to entice us to dance with the drunken Irish boys next to us. It was way too early in the night for that!



So we moved along to the next pub, where I had a Murphy's stout. Yum. I could get on board with Ireland's whiskey and beer!

Then it was time to call it a night. The next morning, we slept in a bit and packed my stuff up. Sadly, it was my last day! I was flying out of Cork, so we took the bus over to spend a few hours. Unfortunately, that meant that I had all of my stuff with me.



Luckily, there was a nice hotel near the bus station that let me check my luggage into their room for free! While Deb headed to see the Blarney stone, Taylor and I settled in for a little lunch in the cafe. Since it was still raining, we wandered the streets for a bit after and popped in the occasional shop, then we stopped for one last chocolate treat!



O Conaill Chocolate Cafe and Shop. It was incredible. We each went with a large dark chocolate hazelnut hot chocolate.

Then it was time for them to head back to Killarney, and for me to head for the airport. Sad day! I hopped a bus, zipped through security, and then settled in to wait for my flight. I landed in London, spent the night in a hotel, headed back to the airport the next morning, and was home that night! What a whirlwind of travel.

I feel so blessed to have been on this magnificent adventure...but also blessed to be home. It really was such a great month of travel!