Con: High impact can lead to injuries if done too frequently, or if your body isn't ready for it.
It is possible to have a high intensity workout and still have it be a low impact one, but I'd say that Insanity is a pretty high-impact program for the most part. Because I'm still keeping up my running and other workouts, I've chosen to only do Insanity 2 times per week (usually on days that I teach cycling) to balance out the workload on my joints. If you're not used to a lot of plyometric exercises, if you're injured, or are just coming off of an injury, I'd definitely caution you and advise that you take it slow.
Pro: Lower intensity and lower impact options are provided.
Throughout the workout, there are a few options given that help to reduce the impact on the joints. This is great for exercisers that are fit but new to the program, or those that just don't want to give it 100%.
Con: Potential for bad/sloppy form.
Once you have the correct technique down for each move, the goal is to get faster with each rep and therefore increase the intensity. This is great, but can lead to injuries if you start doing the moves incorrectly. For example, with squat hops, you need to ensure that your knees don't start coming in front your toes as you land. Shaun T does give form cues, but without a mirror in front of you, it's difficult to tell if you're actually doing the moves correctly as your muscles get more fatigued.
(Source)
Con: Price.
The cost of the Insanity DVD set is $119.85 US, which for some people might seem really expensive. If you've already got a gym membership, you might not see a point in paying an additional fee for workouts you can do at home. Lucky for me, Insanity was given to me by a friend as a gift. Prior to this, I was hesitant to purchase it because I figured that if I really wanted to, I could do my own Insanity-esque workout in the gym. Did that happen? No. Just like other group exercise classes, there seems to be a lot more motivation to work harder when you're doing it as a group (even if the group is on TV) than alone.
Pro: A motivating (and hot) instructor.
If I were 13 and still had posters plastered all over my room, Shaun T's face would be on them.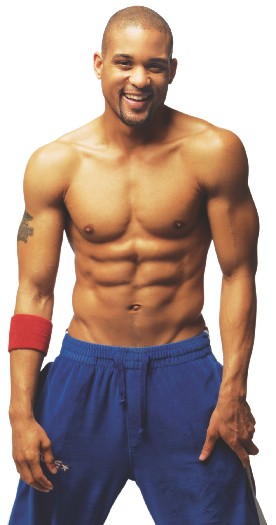 (Source)
Con: Potential for boredom.
In the series there are a total of 10 workouts, so if you're looking for a long-term fitness program, it might not be the best idea. However, if you also do other exercise and want to add variety (and intensity) it could do the trick.
(Source)
My Take
For me personally, I'm loving the variety that Insanity provides, and I'm especially loving how it pushes me out of my comfort zone (something that we tend not to do when workout out on our own). The workouts are quick and I know I'm building strength while also logging cardio at the same time. While I think I'd get bored of it if I did a DVD every single day (without other forms of exercise mixed in), I'm enjoying it a lot – well, as much as one can enjoy doing squat jumps until their legs just. can't. go. anymore.
So tell me…
Have you experienced Insanity, or are you doing it now? What do you think?
Are you a fan of at-home workouts? Which ones have you tried?