2. Magazine subscriptions
As many of you know, I'm a huuuuuge magazine junkie. I love going to my mailbox and finding new issues of my favourites inside, and one of my favourite ways to relax is to curl up with some tea and a stack of new magazines. Not only are they great quick reads, but they're also a big source of inspiration if you (or the person you're shopping for) are motivated by visuals. I currently subscribe to Women's Health, Oxygen (workouts galore), Clean Eating (great healthy recipe ideas), and Chatelaine (for $1/issue for Canadians, you can't beat that!)
3. Chalkboard label jars from Anthropologie.
I found  these spice jars while browsing around Anthropologie a couple of weeks ago and am totally in love with them. They're also available in larger sizes for storing things like cookies and flours, and can easily be cleaned and re-labeled if you need to change the contents.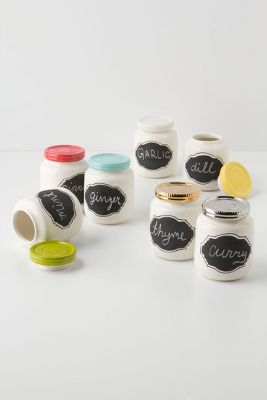 Source: Anthropologie
4. A spiralizer
Aside from my Vitamix, this is one of my most loved and most used kitchen gadgets. Zucchini noodles are super easy to make (and if you're looking for an application, try this recipe! ), but you can also make sweet potato chips, cucumber ribbons, beet spirals, radish slices, and so much more! Mine is by Paderno World Cuisine and can be ordered on Amazon .
(Source: Amazon)
5. Aqua Zinger from Zing Anything
A few people have recently brought this product to my attention and I think it's fantastic! Zing Anything makes water bottles that allow you to use natural ingredients to flavour your water. All you need to do is put fresh fruit, veggies, or herbs into the bottom portion of the bottle, then twist it. The flavours steep into the water leaving you with a custom bevvy that is SO much more interesting than regular H20 – and good for you too!
(Source: Zing Anything)
6. Lululemon stuff
I'm not sure I know of any fitness buffs that wouldn't appreciate Lululemon gear for Christmas, and it just so happens that there are currently tons of amazing tops and jackets in stock. I've got my eye on this Run: U-Turn Pullover. How gorgeous is that blue?!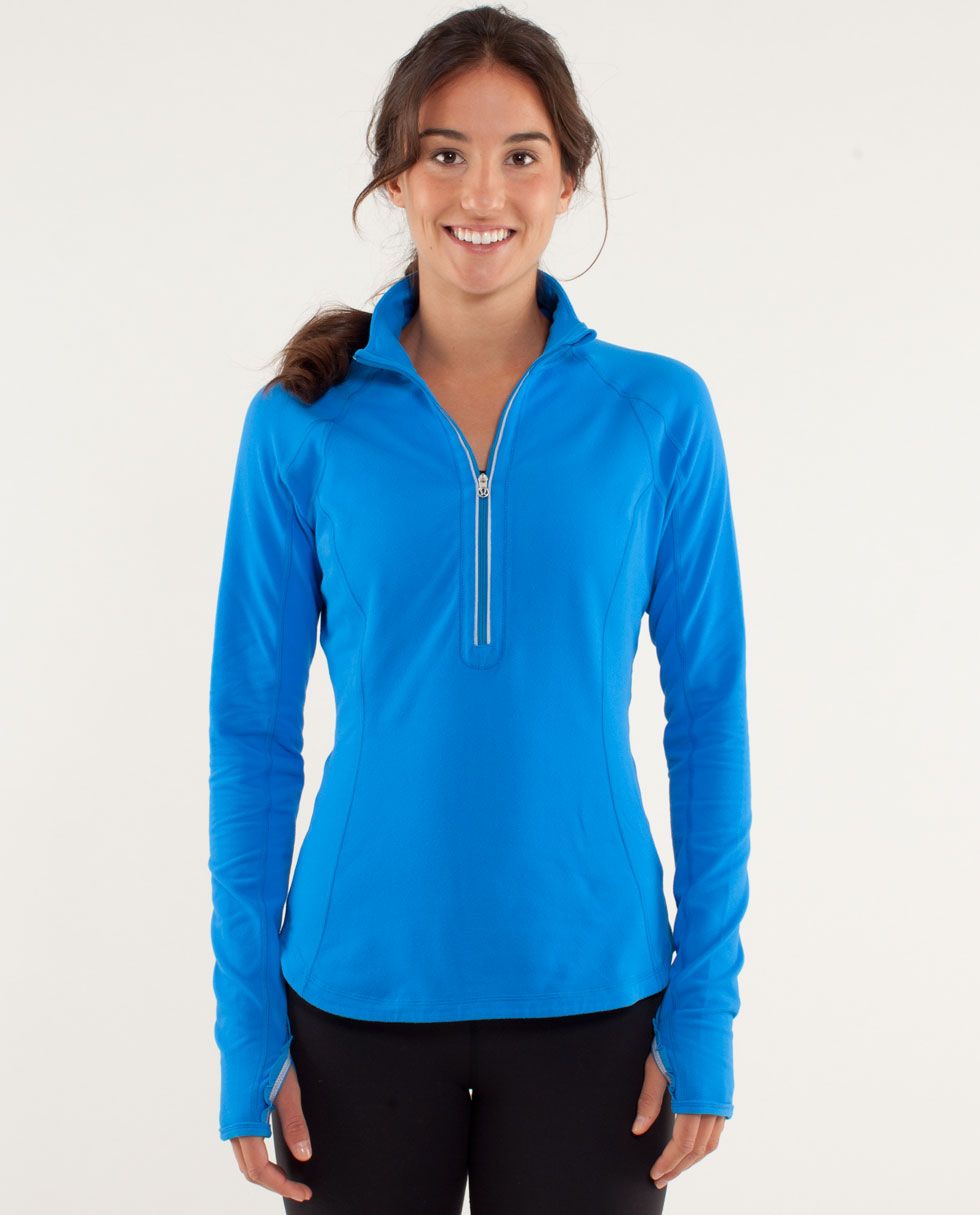 Source: Lululemon
7. Chance by Chanel on-the-go spritzer
I seem to be on more airplanes than usual these days, and in order to get in and out of airports quickly, I now aim to avoid checking a suitcase if possible. Of course, this means no liquids or gels in containers larger than 100mL. On most days, my perfume of choice is Chance by Chanel, but I'd hate for it to be confiscated by the liquid nazis at the airport. Enter the Chance Twist and Spray:
(Source: Chanel)
Not only is this container small and airplane-friendly, but you can buy refills for it rather than having to re-purchase the entire tube when it runs out.
8. Yurbuds
I've talked about these several times, but Yurbuds just might be one of my #1 fitness related purchases this year. These babies do. not. fall. out. EVER. I have owned more pairs of earphones than I can count, all of which have had major slippage issues (especially when I'm in the middle of a super sweaty run). There are several different colours and models, but I've got the most basic ones and they're awesome. If you'd like more details, my full review can be found here .
9. The Microplane Herb Mill
Anyone else get frustrated when a recipe asks you to finely chop your herbs? We all know what happens – you wash them, try to dry them with paper towels, chop them up (whilst trying to keep all 5 fingers in tact), then transfer as many little bits as possible to whatever you're making. But inevitably, you loose some of your lovely chopped herbs because they either stick to your knife, your cutting board, or your fingers. Well, this is certainly the case for me, which is why I think this Microplane Herb Mill would make an awesome present for the foodie in your life.
(Source)
10. Silpat non-stick baking mats
The name is a little deceiving, and until now, I always dismissed Silpat baking mats because I don't do a whole lot of baking. However, I recently learned that they can be used for roasting veggies as well, replacing the foil or parchment paper that I usually use in order to prevent my roasting pans from getting dirty. (As many of you know, I HATE scrubbing pans.) Silpat mats can go straight into the oven and are safe in temperatures up to 480F. They can even be used in the microwave (and they've got a microwave-size one for that). So, if you want to reduce the amount of foil or parchment paper that you use to line your baking pans, or if you want to reduce your time spent scrubbing pans, this one's for you!
(Source)
So tell me….
What's on your Christmas list this year?