Lululemon No Limit Tank
… because you need a stylish matching top to wear under the Scuba Hoodie, right? Long-bodied ladies like me will love this top because it's long – no belly buttons poking out with this one! There's a wide band around the bottom to prevent it from flipping up if the person on your list is one of the talented ones that can flip up into a headstand. (Unfortunately I am not, but I still like this feature.) Finally, the bra inside provides plenty of coverage. As I've mentioned before, I'm not overly gifted in the tata department, and this top gives me enough support for everything from yoga to running.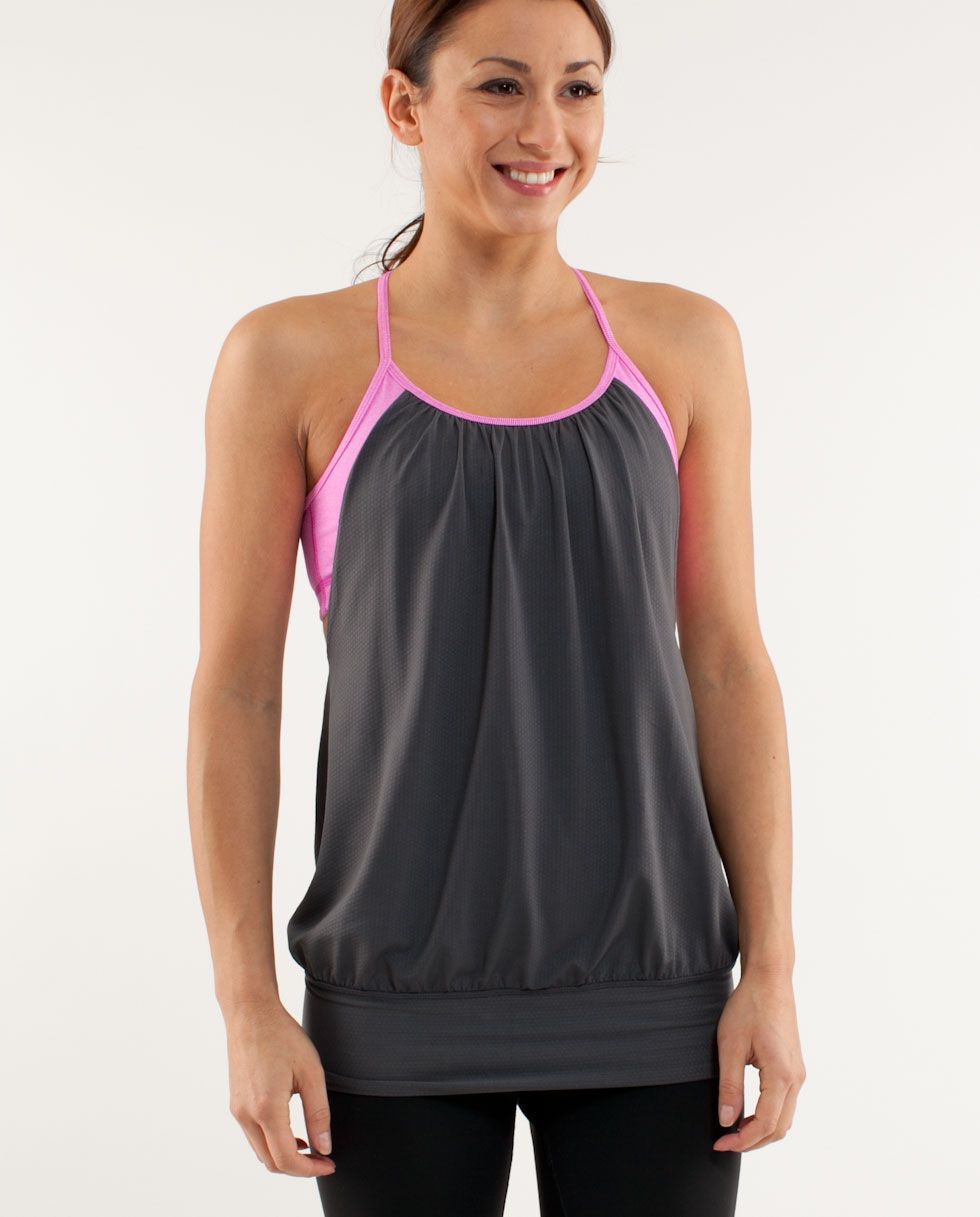 (Source)
iPod Nano
Yes I know it's not exactly a hot "new" item, but I just replaced my old malfunctioning one for the 6th generation model and I love it. Getting used to its very small size took me a while, but now I'm totally fine without the trackwheel that was on all the previous ones. Even better is that you don't need to worry about buying an armband for working out with. I used to have to wash mine constantly because sweat would accumulate and make it smell g-rooooosssss, but the new Nanos have a clip on the back that can be attached to a waistband, sports bra strap, t-shirt or tank. For those that want to track their workouts, there's also a built-in pedometer. You won't be able to watch videos on it or download additional apps, as an extremely small workout buddy, it does its job very well!
(Source)
The Energetics Leather Skipping Rope
Yes I know it's not the most fancy fitness gadget, but I just bought one of these and LOVE it! If the person on your list is looking for a great way to do cardio but don't have access to the gym, this is a cheap yet mighty option. I've had a couple of skipping ropes in the past that I couldn't stand because the rope seemed to be too light and there was too much friction in the handles, but this one doesn't have any of those problems. I'll definitely be taking mine to Italy with me!
(Source)
Gifts For the Foodie:
A Spiralizer
I got my spiralizer from my mum as a very early Christmas present back in October (ok so maybe it was more of a Thanksgiving present) but it is one of my favourite kitchen gadgets to date! The one I have is by Paderno , and it works like a charm. It comes with 3 blades for making other fancy slices….
…but my favourite blade by far is the one that makes zucchini noodles!
Youbars
These are fully customized nutrition bars that you choose the ingredients and packaging for. First, you'll choose a bar size, then move on to pick the base, protein powders, nuts and seeds, dried fruit and berries, sweeteners, seasonings, grains and cereals, and infusions.
(Source)
The whole time you're building, you have the option to make special requests. A nutrition facts panel displays on the right side of the screen so you can see exactly what the nutritional stats of your bars will be, and at the end of the process, you name your bars.   You can also order customized shakes, trail mixes or cereals by ordering online through the Youbar website . Also very cool: They ship internationally!
(Source)
The Jack LaLanne Power Juicer
Ok, I can't say that I actually own this (yet), but I've seen it enough times on infomercials at the gym to be convinced that it is an absolute beast! It's got super high tech juice extraction technology to make sure no drop is left behind, stainless steel blades, and a no-drip spout. It's also got a whopping 8.5 cup capacity – that's a LOT of fruits and veggies! FYI Santa – take note!
(Source)
David's Tea Winter Collection
The fall collection from David's Tea blew me away, but I was even more wowed by these fantastic new winter flavours:
Hot Toboggan – a green tea blend that tastes and smells like a caramel apple.
Snow Bunny – a black tea with banana and nutty notes
Après-ski – a spiced fig black blend with cinnamon and orange
Alpine Punch – by far my favourite of the bunch, a sweet, spicy, caffeine-free rooibos with coconut, apple and cinnamon
Chocolate Chili Chai -  just like the name states, a black tea with chilis and chocolate!
The Timolino Travel Mug with Infuser from David's Tea
Your foodie friend has got to have something to transport their loose leaf tea around in, and this little contraption is a perfect candidate for the job. Initially I purchased this travel press for my on-the-go tea needs, but ended up exchanging it for a Timolino because I wanted a lid that sealed completely. The Timolino has an infuser basket inside so you can steep your tea without worrying about getting leaves stuck between your teeth. It's also got a very handy storage compartment hidden in the lid so you can pack enough tea for an additional mugful later. Oh – and the tea stays hot for aaaages.
(Source)
Clean Start
One of my favourite cookbooks encountered this year, Clean Start by Terry Walters features delicious vegan and vegetarian-friendly recipes with beautiful photos. They're arranged by season and use simple yet fresh, nutritious whole foods. Want a little recipe sample? Check out my Clean Start book review .
Now tell me…
What's on your wish list this year? Any brilliant fitness/foodie products I need to know about?