This post was written by Anastasiya . Follow me on Twitter or StumbleUpon and keep your life balanced!

Image
by
Susanica
If you've been following my blog for a while you probably know that I am passionate about healthy living and exercise. I am even more passionate about telling people around me how beneficial healthy lifestyle is and how easy it is to follow it.
One of the ways to bring balance into my lifestyle is Yoga. I've been practicing it for a few years now (though I am not a real Yogini) together with Pilates and running. This combination of activities has proved to be the most beneficial for my body because it connects mind and body and lets me find inner serenity while giving me the body that I love. I am a certified fitness and Pilates instructor but Yoga has always been just my hobby.
Recently I have found a new way of doing Yoga. I have started using Prasara Yoga Primer – an online course with 5 Yoga flows (each flow has 3 levels of difficulty and plenty of videos demonstrating transitions and movements.) At first I didn't know what to expect from these flows, but now I absolutely love them!
Here are 5 things that I love about Prasara Yoga Primer:
It is not static. I love movement and Prasara Yoga gives me just that. Each asana flows gracefully into the next one creating a continuous flow that stretches and strengthens your body.
It is suitable for any level. The Advanced level is still beyond the horizon for me but I am comfortable with my Beginner level flows right now. If you decide to try Prasara Yoga I would recommend that you look through the manual and learn all the asanas (poses) before trying transitions. The first time I tried transitions I felt like a cow on the skating rink because flows require good coordination (that you will develop if you keep practicing Prasara Yoga).

It's good for cross-training. If you already have your favorite workout (running, cycling, weight-lifting, swimming etc.) then these Yoga flows will maximize your results. It is great to work your body from different angles and challenge it with something you are not familiar with.
You get help and support. When you buy Prasara Yoga primer you also get access to the forum where you can ask questions about the practice or share your progress with other members.
You can do it anywhere. I am not a big fan of gyms and I love workouts that do not require any equipment and can be done anywhere. All you need to do Prasara Yoga is your computer (or iPod) and a mat.
I have decided to do a short interview with the creators of Prasara Yoga primer Andy Fossett, Jarlo Ilano and Ryan Hurst. Feel free to ask them any questions in the comments below.
1. What is Prasara Yoga? What are the benefits of doing it?
Jarlo: Actually, the development of Prasara yoga is very interesting. Our teacher, Scott Sonnon, has a varied background in Russian health and movement training, as well as martial arts, yoga, and other fitness disciplines. During his explorations, he learned and adapted a variety of "biomechanical exercises" which emphasized dynamic joint and whole body mobility. The focus was less on static positional holds, and more on flowing movement to improve freedom in all degrees of motion. As he studied more yoga, he incorporated the dynamic mobility exercise with the traditional hatha postures, and developed a system that connects the asana in a free flowing, graceful manner. When you view the various flows, you can see that they are both similar and distinctly different from other vinyasa style yoga.
Each flow that is created by the various teachers has a specific focus as well as full body mobility. For example the Cricket Flow, is very good for hip opening and strength, while the Vine Flow emphasizes standing posture and balance with leg mobility. The focus on flowing movement and a specific focus on particular areas (while still maintaining whole body awareness) are two of the great benefits in Prasara.
The dynamic movement appeals to many who don't enjoy holding the static positions of asana that much, and the specific focus of the flows allow people to choose particular flows for their current goals. With this, we believe that Prasara can help many people to enjoy the benefits of regular yoga practice.
2. What is life balance for you? Does Yoga help you find life balance?
Ryan: Life balance for me means being able to do what I want, when I want, and how I want. And that unfortunately means that I can't say yes to everyone in my life. When you spread yourself too thin by putting too much on your plate, nothing gets done and you start hating what you are doing. Taking little bites and focusing on that, and solely on that, is much more rewarding than trying to cram it all in. Yoga can help with life balance. But just like anything, when you try to cram too much into your yoga practice you lose that balance. That is why breaking your practice down into smaller chunks and focusing on the meat of your practice will teach balance. And when you can learn to focus on the balance within your yoga practice, it carries over into life balance.
Andy: Life balance is one of those things that didn't have a name until recently but has become a pretty hot topic. I think the biggest thing to consider is that you have to choose your level of granularity when you talk about balance. I mean, are you trying to balance everything over the course of a single day? Because that would drastically compromise the depth at which you pursued any of your responsibilities or interests. With only 24 hours in a day, the only way to really "get it all in" is to do much of it badly.
And that's where granularity comes in. You can choose to set aside a certain amount of time for each thing, but what happens when you have to re-prioritize? I believe that real "life balance" occurs over the course of your lifetime. You have to make choices that may seem unbalanced at times. When I have friends visit from other countries, I don't meditate every day, and I drink more than I should. But then things level off, and I return to my disciplines.
Making space for the things you love doing may mean that truly balancing your activities and time each day is impossible. But you can also balance over the course of a week, or a month, or a year. As long as you are consciously deciding how you spend your time (instead of simply reacting to external forces), you'll be more balanced that most people. The internal focus you build with Prasara practice helps.
3. Can you remember a story of the most inspiring Yoga student that you have ever had?
Ryan: That's a tough one because every single person I work with inspires me on a different level. But if I had to give an example it would be the student who comes day after day and never gives up on their daily practice. I've seen a lot of very talented people. Those who could just 'get' it right away. But it is always those that must work especially hard and with extra diligence on the mat that constantly reminds me of why I am doing yoga. And that inspires me. Achieving a certain pose or movement in Prasara Yoga is impressive. But it is not the pose nor the movement that is truly inspiring. It is the journey, the hard work of daily personal practice that is what inspires. That is where we truly grow and can in turn inspire others I believe.
4. Who is Prasara Yoga for? Is it a workout for regular beginners or is it an enhancement for athletes? Some of the stretches and transitions are quite difficult for a regular beginner. What are your tips to ease into the routine and to stay successful as a student?
Ryan: This might sound cliche, but Prasara Yoga really is for anyone. It is divided up into levels and within those levels broken into parts so that a person of any level can benefit. It can be a workout, a cool down, and even a restorative practice.
Like anything, you shouldn't just jump into Prasara and expect to be able to do it all. Choose a flow and start with the beginner level. Work on the components of each breakdown and focus on your structure, breathing, and movement. Don't look at this as a quick fix for something. Take your time getting into your practice and stick with it! Slow and steady.

Andy: Prasara is just a philosophy of movement, so I'm not sure it can really be for or not for a particular kind of person. Either that person practices with flow, or they don't. There are definite benefits to practicing Prasara for athletes because of the emphasis on movement, but beginners can get a lot out of any the practice too as long as they don't try to compare their own progress with what they expect others are doing.
Of course, these routines are going to be difficult for beginners. That's what makes them effective. When you come across something you can't do, simply look at it as a chance to learn. Approximate the movement to the degree you can without pain. Exhale. Try again. Repeat for a week and note your progress. Rivers don't make mistakes. Just keep flowing, and eventually you'll reach the sea.
5. What is your biggest motivation in life? What is your biggest motivation to practice Prasara Yoga?
Ryan: My biggest motivation in life is to keep moving so that I can play with my children and then their children some day! LOL!
I believe that a great teacher must be a living example. To me this means daily personal practice and working just as hard or even harder than those that I instruct. I want to share Prasara with as many people as I can and I feel the best way to do that is by training in a way that allows a person to train their whole life. Prasara is what allows me to do that.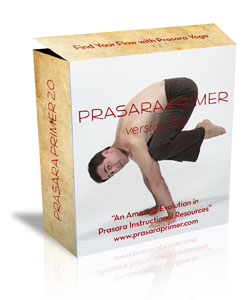 Thank you guys for answering these questions and for creating a wonderful product!
Don't forget to check out all the features of Prasara Yoga Primer ( click here ). You can even get a free sample workout to see if Prasara Yoga is for you or now. I hope that this Yoga flow will bring more balance in to your life.
Keep it balanced!