What's for breakfast tomorrow?
You may want to give this a try!
~Chocolate Covered Cherry Oatmeal~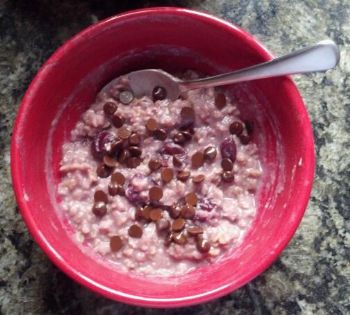 Yeah, quick, easy, Clean (that's important to me!) and yummy!
Ingredients
1/3 cup Rolled Oats




1/3 cup Dark Sweet Cherries, frozen (I used Dole)




2 tsp. Just Whites. powdered egg whites




1 tsp. Vanilla




1/2 tsp. Cinnamon




1 cup Water




1 Tbs. Unsweetened Carob Chips (I like Sunspire)



Combine first 6 ingredients in a large bowl. Microwave on high for 6 minutes, or until the liquid is absorbed.
Stir, top with carob chips and enjoy!
I promise you that I will get back to some regular blogging this weekend! Life has gotten in the way (funny how that happens sometimes!)
I hope everyone had a good week!
Did you get your sweat on?
Sweat Pink!
Girls Gone Sporty!