rear deltoids
teres major
latissimus dorsi (aka your lats)
rhomboids
trapezius (aka your traps)
erector spinae (the group of muscles that support your spine)
Why bother training your back?
Having a strong back is a huge asset for decreasing your risk of injury. You probably don't realize it, but your back is active in so many of the functional movements you perform every day. By developing the muscles listed above, you are preventing injury both in and out of the gym. You'll also be able to lift heavier weights in the gym. Just like functional activities, the back muscles act as stabilizers in many weight lifting exercises. For example, when you do deadlifts and squats, you might think you're just working your lower half, but your back is at work too! A strong back means you'll be able to deadlift/squat/press/curl (you get the idea) more with proper form.
How many times have your parents told you to sit up straight? My mum used to tell me this allllll the time! Having a strong back can help to improve your posture, which again, makes functional movements easier. Do you really want to look like a hunchback by the time you're 60? I didn't think so! By working these muscles, it will be easier to pull your shoulders back and sit/stand up straight. Oh, and I should also add that you'll also look slimmer and more confident. Bonus!!

What exercises can help you to achieve all these fab benefits?
Well, there's lots! I'll focus on a couple of main moves in this post, as well as some of their variations. (Disclaimer: Remember, I'm not a personal trainer and all of the information below is based on my personal experience.)
Rows
There are a ton of ways to do rows, and each one targets the back muscles in a slightly different way. For example…

Holding dumbells in each hand, or holding a barbell: As shown in the image below, start with a narrow stance and hinge at the hip, keeping a fairly flat back. Holding dumbells in each hand (or a barbell in both hands), draw the elbows back and towards the ceiling, squeezing shoulder blades at the top of the motion as you draw the dumbells up to your ribcage. Return the dumbells/barbell back to the starting position with control, and repeat for desired number of reps.
(Source)
If you're using a barbell, you can choose to take either an underhand or overhand grip. While both types target the muscles of the mid-back, the difference is that the underhand grip requires more action from the biceps (so you're kind of sculpting your guns at the same time – an attractive thought if you like to multitask!)
Bent-over kneeling rows. This move isolates one side of the body at a time. It targets mainly the mid-back, but the biceps, lats, and shoulders are also involved.
Holding a dumbell in your right hand, support your weight on the bench in your left knee and hand. Begin with your right arm extended downwards, perpendicular to the floor, and draw your elbow back and up, squeezing your right shoulder blade at the top of the movement. With control, return the weight to the starting position and repeat, then switch sides so that the dumbell is in the left hand.

Seated cable rows: Depending on the type of machine you are using, you can usually attach different handles to target different muscles in the back. For handles similar to the ones shown below, the major working muscles are the lats, trapezius, and rhomboids.


To perform this move, set up on the machine as shown above and adjust the weight to one that is challenging but reasonable for you. Sitting up straight, begin with your arms extended, holding the handles. Keeping your chest lifted, draw the handles toward your rib cage and squeeze your shoulder blades back. Reverse the motion and return to the starting position.  
(Source)
Another option – with a resistance band:
(Source)

One key thing to remember with this move is to keep your shoulders relaxed. The goal is to keep the work in your mid-back, but hunching or raising your shoulders can create tension in your neck… and we don't want that! Kettlebell Renegade Rows (can also be done with dumbells): I talked about this move in my Kettlebells 101 post, and I'm mentioning it again because it's one of my favourites! The lats are the main muscles worked, but there are lots of others involved too. Begin in high plank pose with your hands holding the kettlebells (or dumbells) as shown. Starting with your right side, lift the kettlebell as you row your right arm, bringing your elbow back and drawing it up toward the ceiling. Squeeze at the top of the motion, then return it to the ground. You can do all reps on this side and then switch, or alternate arms.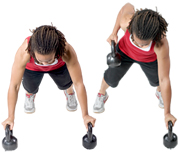 (Source)

One thing to note: Think about keeping your hips square to the ground, and don't let the hip on the side that is doing the rowing turn upward. To do this, you'll need to engage your core muscles just as you would for a plank. To make it easier, take your feet out a little wider. Don't like rows? Don't worry, there's more! Lat Pull-Downs: Again, this move has a ton of variations. You can use a wide overhand grip (as shown below), a narrow overhand grip, or a reverse (underhand) grip. All three types will target your lats, rhomboids, and traps, but the difference is that they will be working different parts of your lats. (They are pretty big, after all!)
(Source)

To do this move, set up as shown above with your feet flat on the floor and the round pad against your thighs. Take whatever grip you choose (making sure hands are evenly spaced on each side), and pull the bar downward towards your chest. Keep your chest lifted upward, and hold the contraction before letting the bar return to the starting position. One key thing to remember here is not to lock out your arms at the top of the move. Keep the movements smooth and when you return to the top, make sure you've still got a little bend in your elbows.
Reverse Flies

A fly is an exercise that develops your chest muscles, but a reverse fly does the opposite and targets your back. Again, there are heaps of variations and you don't necessarily need machines in a gym to do them. The main muscles worked are the rhomboid, lower traps, and the rear deltoids. This is the smallest part of the deltoid, and if you do this move, you'll probably find that this muscle gets tired very quickly!
Some variations include….
On a stability ball with dumbells:
(Source)
On a pec deck:
(Source)
Seated or standing with dumbells:
(Source)
Here, it's important to only lift the dumbells to shoulder level in order to prevent injury.
Finally, you could also do reverse flies using a cable machine, but unfortunately it appears photos of this move are very rare! For a demo, check out this link .
Excited to start lifting yet?!
These are definitely not the only back exercises you can do – there are all sorts of extensions, deadlifts, and other moves that can help you to build back strength. These are some of the ones I do regularly but it's always fun to shake up your routine, which is where you come in….
Tell me…..
What's your favourite strength training exercise for your back?
What is your favourite muscle group/body part to train?
I hope you have a wonderful day!