Complete these 3 exercises without rest, then take about 30 seconds before moving on to a 2nd and 3rd set.

2. Captain chair leg raises with negatives. If you like to feel that you've worked the lower part of your core, this one is for you!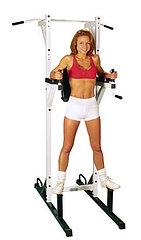 (Source)
Position yourself on the captain's chair as shown above. Straighten your legs, and raise them up so that they are parallel to the ground. Your legs and torso should form a 90 degree angle. Then, lower back down with control to the beginning of the exercise. Repeat 10 times. Then, do 5 repetitions where you raise your legs up to parallel with the floor, and lower them as slowly as you possibly can. Finally, raise your legs one more time and hold them in the extended position for as long as you can. Lower, rest 30 seconds, then repeat the whole sequence 2 more times.

3. Plank to push-up. This one is great because you don't need any equipment – your own body weight will be enough! Start in a low plank position, with your shoulders, back, butt, and legs forming a straight line.
(Source)
Next, push yourself up onto your hands, into high plank position.
(Source)
Do a single push up, then lower back down to the starting low plank position. Repeat until you've done 10 full reps – or 10 push ups in total. If this is too difficult, you can do your planking and push-ups with your knees touching the ground.

4. Squat thrusts: This is more of a total-body move, but a great one for getting your heart rate up and knocking the last bits of energy out of you! Start off standing with your arms at your sides. Bend your knees as you stick your butt out behind you and lower into a squat.
(Source)
Place your hands on the floor about shoulder width apart, and kick your legs back into high plank pose. Then, spring off your toes and bring your feet back in, near your hands, returning to the squat position. Stand back up and repeat 10 times. Rest for 30 seconds, then do 2 more sets.
If you want to turn this into a burpee, you can jump as you stand, and throw your hands as high as possible to gain momentum.
(Source)
It seems that no matter how many I do and how often I practice, burpees never get any easier!
Alrighty friends, time for me to get cracking. I'll leave you with my questions for today:
Have there been any big obstacles, goals, or projects that you've tackled and conquered this week? Tell me about them!
Have you done any of the new Les Mills releases yet this week? What did you think? I've also done Body Pump and the music is great this time around (release 77).