In the blender:
12-16 oz water or coconut water
1 big chunk of aloe gel (filet the aloe leaf and throw in a chunk, but not too much—it acts like Draino if you overindulge!)
handful of ice
juice of 2 limes and 1 lemon
stevia to taste
Blend—it gets frothy on top and so amazingly refreshing. Aloe is great for acid reflux and toning your digestive tract (but like I said, more is not necessarily better!). I invented this last year in the summer, and the most satisfying time to drink it is with your mom, while sitting in the shade, after a really sweaty walk on a hot summer day… Just a suggestion
I'm planning to post a series of purifying drinks over the next week or so. I need to clarify and purify my mind, and my body could use a little tune-up too. Ingredients to come: grapes (with seeds), watercress, and more!
I also have a Sun Butter giveaway coming up in the next couple days!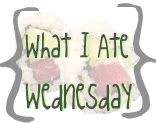 For WIAW…
This is mostly Joe's food, but he was really happy with his tuna and his antipasto salad, so he offered for me to take pictures of them
Tuna on a bagel---he added raw spinach (chopped), a few hot peppers (that's the red stuff---I think there may have been tomato, but not sure on that one), red onion, and spices/herbs...then used Vegan mayo that is made with grapeseed oil. I had a bite (or two)---this is amazing! Why don't people put stuff in their tuna? It's pretty and delicious...
Hi Antipasto: I think you can see everything in it...he made the dressing with fresh/dried herbs. I think that's key!
Super Simple Juice: 1 head of celery, 2 limes, 1 chunk ginger, orange extract and stevia to taste. It made about 20 ounces. I think next time I'll swap out some of the celery and put some romaine in its place.
Just a reminder for myself to play today. What are you going to do for fun today?