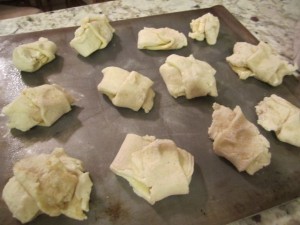 knotted up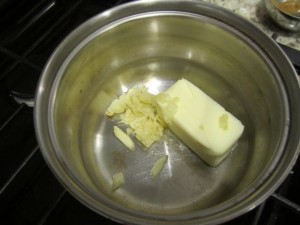 butter & garlic melting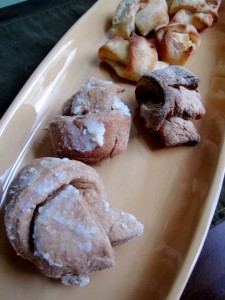 Print This!    
Garlic Knots (makes about 12)
adapted from Food Network
Ingredients
2 pounds pizza dough
1/2 cup unsalted butter
7 cloves garlic, minced
1 tbsp olive oil
1 tsp course sea salt
1/4 cup grated pecorino romano
Preheat oven to 375 degrees and grease or spray a baking sheet with non stick spray. Place dough on a lightly floured surface. Roll out dough into a large rectangle, about 12×16 inches. Brush the dough lightly with olive oil. Cut the dough in half, lengthwise. Then cut into strips, about 1 1/4 inch wide. Tie each strip into a knot and place on a baking sheet. Sprinkle knots with salt and cover. Let rise about 30 minutes. Bake for about 20 minutes, until golden brown. While baking, combine butter and garlic in a medium saucepan. Let heat for about 3-4 minutes. When knots are done baking, either toss in large bowl with butter or brush garlic butter on each knot. 
I didn't want the knots to break, so I brushed the butter on!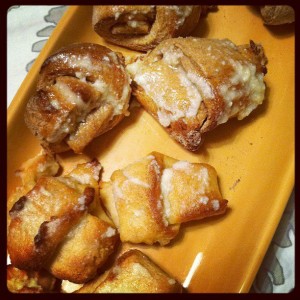 Delish and a perfect Sunday TREAT.
P.S. I stopped eating chocolate for a week and was shooting for two weeks. I decided that I really wanted to eat these crispy treats and would continue my non-chocolate eating ways today. WORTH IT.
Off to hit cardio bootcamp and the weights! Starting Monday off RIGHT! Are you keeping up with your resolutions?!
Happy Monday!