WIAW #8 – Camping Eats & Trailer Reno Before + Afters!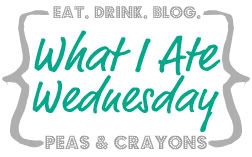 Happy Wednesday!
It's another edition of WIAW!
This edition is a little different as I'm going to show you what I ate over a day and a half of camping this past weekend! I'm hoping this might give you some great healthy camping eats ideas!
Oh! AND, at the end of the post for those who are interested, there are some before and after pics of the 1980′s Prowler Trailer my hubby and I renovated over the past couple months! This last weekend was our inaugural trip of using the trailer and it was wonderful – so much better than tenting!!
So let's get started – as I'm sure you already guessed, it's A LOT of food!
Day 1
I didn't actually start taking pics until our way out to the campsite – so this first snack was actually my 4th meal of the day as I had already eaten breakfast, morning snack, and lunch!
I knew we would be in the car, so I made this ahead of time, and it was delicious – the perfect road snack!
I combined 3/4 cup of plain 0% fat Greek Yogurt with 10g of Vanilla Whey Protein Powder ( North Coast Naturals ) then topped it with raspberries and 1 crumbled RAW REV bar (I love these – they are clean, healthy, and delicious, and a quick pop of 100 calorie energy!) 
For dinner I only got to snap a couple pics because we actually ended up getting rained on in the process!
I made foil packet sweet potatoes which I cooked in the campfire, and some nitrate free, natural chicken sausages! We had a salad on the side but I forgot to take a picture!
After the rain died down, we got the campfire going again to make "dessert"! I had seen these
Campfire Banana Boats
all over pinterest and new I had to try it. I,
of course
, wanted to make them even healthier, as marshmallows and chocolate chips are way too sugary! Instead I filled our
bananas
with
Peanut Butter & Co Dark Chocolate Dreams peanut butter
which is naturally sweetened and free of hydrogenated oils!
I cut two bananas down the middle with the peel on, and filled each with a tablespoon of the chocolate peanut butter, then wrapped the bananas in foil and popped them in the fire for about 5 minutes. The banana cooked and warmed and the chocolate peanut butter melted into a delicious sauce, then I sprinkled in some naturally sweetened
Galaxy Granola
!
SO DELICIOUS!! I also felt totally guilt free enjoying this dessert!
Day 2 The next morning we decided to put our little camper stove to use and make some eggs! I cooked up our typical daily breakfast,
whole eggs and egg whites
(topped with hot sauce and dill!)
with
plain instant oatmeal mixed with ground flax and cinnamon
 on the side, which we then topped with
raspberries
!
It was a delicious, homey little breakfast in our trailer!
The hubby even scrubbed out the pan and did the dishes – I had to get a picture of this!!
Saturday turned out to be a beautiful day and the hubby and I decided to go on a
pretty intense 20k bike ride!
To fuel up I made another yogurt bowl using
3/4 cup 0% plain Greek Yogurt
,
10g Vanilla Whey Protein Powder
, topped with
raspberries
and then I let it firm up in the freezer for a little bit. Right before we left on our bike ride I crumbled half of a
Cinnamon Roll Quest Bar
onto my yogurt mixture and dug in!
It was not too filling, fast digesting, and perfect for our trail bike ride
(my legs are still sore!!)
After the bike ride we returned to the campsite pretty
ravenous
! It was time for a filling lunch so I whipped up some salads, and we made
Pie Iron sandwiches!
I made a sandwich just like the one
I posted on Monday
, but using cooked chicken breast instead! I knew we would be doing something like this in my meal planning so I had pre-cooked a couple chicken breasts to bring camping!
I assembled the sandwiches using the
Little Big Bread, chicken breast, organic cheddar, and Eden Apple Butter
.
(Yes, that IS my scale under the plate, I did bring my scale, and I did measure out my food! – it keeps me accountable!!) 
Then in the pie-iron it went! A few minutes in the campfire and voila -
a delicious campfire sandwich!
I don't know WHAT it is about that darn pie-iron but everything that comes out of it tastes extra amazing!
A few hours later, the hubby's sister and her boyfriend paid us a visit and brought some Tostitos…
my nemesis! 
I LOVE THOSE STUPID CHIPS!
So, I made a healthy snack….
with some chips
–
80/20 right?!!?
I had some snap peas, cottage cheese, and yes, Tostitos!!
I also, will totally admit, I had more than just in that little bowl – my hand reached in that bag .. a few more times
A few hours later it was time for dinner! I had already planned to make this curry as I had seen something very similar on Nourishing Flourishing and thought the idea was genius!
Campfire Curry! Hello!!
I had pre cut and bagged a
bunch of different veggies
and
pineapple
, and made a
spice mix using garlic powder, onion powder, tumeric, chili flakes, cumin, curry powder, and salt!
I brought along some
minced ginger
and canned 
coconut milk!
I decided we would do
prawns
in the curry because they cook quickly and are one of my fave proteins!
Oh hey, there's me, making dinner!
The curry was actually super easy! I combined chopped carrots, bell peppers, cauliflower, broccoli, onion, and zucchini in a pot covered in foil, then added in the spices and some water.
I let this all cook over the fire to soften then added in the light coconut milk.
When it had all been simmering for a while I threw in the pineapple and prawns and let it cook more until the prawns were done!
We served it in bowls and mowed down!
I had made some quinoa and brought it along but we didn't even need to eat the quinoa, as the curry alone was filling enough! It was so delicious!
I will definitely be doing this again on more camping trips!
After dinner, the rest of the hubby's family joined us for some drinks and time by the campfire!
For dessert I decided to test out another campfire recipe!
Healthy Campfire Apple Crisp!
On a large piece of foil which I greased lightly with
coconut oil
, I placed
thinly sliced rounds of apple
and squeezed
lemon juice
over them to prevent browning. Then I topped the apples with a mixture I had pre made at home:
1/4 cup rolled oats, 1/4 cup oat flour, 2 tsp cinnamon, 5 packets stevia, 2 tsp pure maple sugar, 1/8 tsp nutmeg, and a dash of salt.
I cut
1 1/2 tablespoons of coconut oil
into the dry mixture to make it crumbly and then topped the apples with the oat mixture. I then topped it with another piece of foil and folded in the edges to make a big packet. I wrapped one more piece of foil around the whole thing and popped it on the rack over the campfire.
It cooked for about 25 minutes and when it was done – it was a delicious, aromatic, soft, sweet, crumbly and delicious Apple Crisp!
It's pretty amazing what you can do with this "oven" when you put your mind to it….:)
The next morning we had the same eggs and oatmeal breakfast and packed up the trailer to head home! It was a fantastic weekend, full of fun, family, relaxing, and great eats!
I didn't really track my food perfectly so I'm not exactly sure where I ended up with my calories and macros but I'm assuming it was all a little higher than a normal weekday!
Now for the Trailer Reno!
So, to give you a little back story to this. At the beginning of the summer the hubby and I bought an old 1988 18ft Prowler Trailer! We had decided to look for one as we were planning a week long camping trip to BC in August and couldn't fathom the idea of tenting it for the whole week!
We came across this little trailer on Kijiji and decided to go for it, but it needed a lot of TLC on the inside!
Here's what we did!!
BEFORE
After
We painted every single ugly wood surface in crisp white, put bead-board wallpaper on a kitchen wall, behind the dining table wall, and the wall behind the couch/bed and painted it a light grey, tore out the floors and replaced it with cheap Ikea laminate flooring, and added sticky lino tiles to the bathroom. We replaced the ceiling, had the cushions all reupholstered, and cleaned the crap out of every nook and cranny in that thing!
I made mini curtains using long ikea curtain panels, and we kept the original counter top and table as they were in good shape.
We also kept all the appliances as they worked and were in good shape too, just needed a good cleaning!
Last but not least we painted the fridge in chalkboard paint, then totally forgot to write something on it!
And here's the trailer in full swing on our weekend camping trip!!
It was a lot of work but turned out amazing! We are so happy we are
"trailer folk"
now, lol!
Have a wonderful Wednesday and I hope you enjoyed this super long edition of WIAW!
Christal Nutritionist in the Kitch