Semi-Raw Chocolate Macaroons
Photo courtesy of Confessions of a Fitness Instructor
This is for all coconut lovers out there. This recipe only has 5 ingredients so you can thank Suzi of
Confessions of a Fitness Instructor
for making this easy for you. Because it's raw, it's getting dehydrated in your oven on a very low temperature for a few hours.
Chocolate Cupcakes with Vanilla Pudding Filling and Chocolate Frosting
Photo courtesy of Sensual Appeal

Kammie of Sensual Appeal has put together a dessert recipe for those who are unafraid of a little extra work. There are three main components to this and all of them are low in calories. Seriously, each little cupcake is about 100 calories. Just don't eat all 12 at once.
Microwave Protein Cookie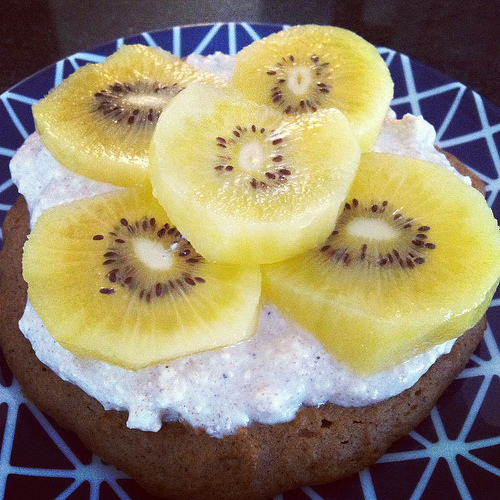 Photo courtesy of Sprint2theTable

Not gonna lie, I got a glimpse of this microwave cookie a few weeks ago and have wanted to try it since. It's made with Sunbutter and Laura ( Sprint2theTable ) blended together cottage cheese, stevia, and apple spice to ice this cookie before topping it with golden kiwis. Yum!
Pumpkin Spice Latte Cupcakes


Photo courtesy of Ari's Menu

I don't care how many fall-inspired items I already have swarming around my blog, this is something you should try. Ari of Ari's Menu has swapped out some ingredients in a traditional pumpkin spice latte to make this more figure-friendly. Did I mention it is smothered in a honey cream cheese frosting?
Almond Delight


Photo courtesy of Graceful Fitness

How about a recipe for a handful of bite-sized chocolates? If you're one of those people who is not quite ready for cold weather, transport yourself to an island with Faith's ( Graceful Fitness ) take on a miniature Almond Joy. It's sugar-free, and sweetened only with honey.
Mocha Balls

Photo courtesy of Fit Foodie Finds

Who doesn't want anything bite-sized these days? With 6 ingredients in hand you can create these tiny little bits of mocha heaven thanks to Lee of Fit Foodie Finds . There's no cooking involved. All you need is a food processor and some hands that are willing to get dirty. Rolling the balls in chocolate is just the perfect finish.
xo,k.