Healthy Cooking Community
Posted Feb 04 2011 11:06am
recipe

that will convert you to an Indian food lover!  This is my personal favorite so I stand behind it 100%.  I hoard the leftovers for myself and really enjoy that my kids are still a little wary of this dish---more for me, I say!

If you've never tried Indian food--THIS is the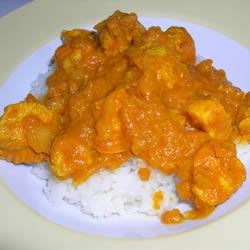 Indian Chicken and Vegetables

I traveled to India some time ago and experienced a week of real Indian food.  After about three or four days, I was thankful for the granola bars I had stashed in my luggage because I couldn't handle the spices for breakfast, lunch, AND dinner.  I thought I had had enough curry for a lifetime!  But, that crash course in Indian cuisine must have given me enough familiarity with the tastes of India that I now go wild about eating it and attempting to cook it.


This recipe for Indian Chicken and Vegetables actually contains no curry powder and is pretty mild--unless you go nuts with the chili sauce and cayenne pepper.  We can't do really spicy food at home because it makes the kids cry--and who needs that drama!  So, if you make it as listed you don't have too worry about it being too hot.


The coconut milk is what makes this dish magical!  You can find Coconut milk and light coconut milk in most supermarkets.  I skip the light stuff unless I am really trying to watch my calories.  The full fat version is much better and the fat in coconut milk isn't the kind that will make you fat.  In fact, there is even some recent research that suggests using coconut oil in cooking because of its weight LOSS benefits .  So, here is a healthy splurge.  Go for the real stuff!

One caution---the turmeric stains clothing and will stain your counter tops for a little while if they are Formica-- so be a neat cook when you make this.


I have also included a recipe for Naan, or Indian flatbread.  With only four ingredients, it is easy to make and probably healthier than traditional naan made with Ghee (clarified butter).  However, I find that this bread is really GREAT fresh, but not so hot as leftovers.  How's that for selling you on my recipe?--just being honest I guess.


Save 21% on the Apple® - iTunes $50 Gift Card at BestBuy.com - Just in time for Valentine's Day!




Target Coupons: 10% Extra Cash Back (was 4% Cash Back)
Gifts for anyone: 1800FLOWERS Coupons: 20% Extra Cash Back (was 16% Cash Back)

Indian Chicken and Vegetables Recipe

:

Ingredients:

8 oz Chicken Breast

1 tbsp Cumin Seed

1 medium Onion, chopped

1 tbsp Olive Oil

4 oz Tomatoes Paste

1/2 cup Tap Water

1 1/2 cups Zucchini Squash, chopped1 1/2 cups Frozen Cauliflower1 medium Red Bell Pepper, chopped1-2 carrots, sliced2 cups coconut milk, canned3 tsp Tumeric1/2 tsp Brown Sugar1 tsp Spicy Thai Chili Sauce1/3 tsp Salt

1/2 cup Cilantro



Directions:Heat olive oil in pan. Add cumin seeds and cook until fragrant (about 1-2 minutes)Add onions  and carrots and saute for 2-3 minutes. Cut chicken into 1/2 inch chunks and cook with onions and carrots until chicken is no longer pink. Add remaining vegetables and stir fry for about 5 minutes. Mix tomato paste and water in small bowl. Pour over vegetables and meat and heat through. 

Mix remaining ingredients into the coconut milk, reserving the cilantro as a garnish and add to vegetable/meat mixture. 


Bring to a boil, reduce heat and simmer on low for about 20 minutes. Garnish with cilantro and serve over rice (Jasmine rice if traditional, but I just use Brown rice)


In my personal opinion, this dish is a great vegetarian option--the chicken is just a bonus because the vegetables soak up the flavor of the sauce so well.  Especially the cauliflower, and I am not a big fan of cauliflower in general.  But, if I tried to serve cauliflower and there was no meat in the meal--my husband would rebel.  So--you decide vegetarian or not...at my house there will be chicken tonight!


Like many stir-fry type recipes, this recipe is MUCH easier to prepare when you pre-chop and mix all your ingredients rather than trying to cut them as you cook.  I typically make the dough for my Naan so it has time to rise, get my rice going and then chop my veggies. And because the rice takes longer than the curry--I have plenty of time to get everything done with no stress!  I roll out the Naan and my husband cooks it on the griddle while the curry is simmering.
Speaking of the Naan--Indian flatbread is the perfect accompaniment to this dish.  You can soak up the extra sauce with it or top the bread with the veggies.  You just need to remember to make the dough a little over an hour before you want to eat.
Recipe for Simple Naan Ingredients:1 cup All-purpose Flour1 Cup Whole Wheat Flour 1 cup Plain Yogurt 1/2 tsp Baking Powder
Directions:

Mix dry ingredients in a medium bowl, add yogurt and stir with a fork until doughy ball forms. Let dough sit for one hour. Divide dough into 12 balls. roll into long thin pieces. Heat a griddle to 400 and cook dough until bubbles form and brown on both sides.


optional...add garlic and butter to taste, but go easy on that butter friends!



Gifts for the whole family: Travelocity Coupons: Up to 5.3% Extra Cash Back (was 4.8% Cash Back)





JCPenney Coupons: 10% Extra Cash Back (was 3% Cash Back)


Enjoy this meal as part of this 1600 calorie meal plan:


Breakfast- 495 Calories


2 Whole Grain and Oatmeal Waffles w/ Peanut Butter syrup

and 1/2 sliced banana




Snack- 100 Calories

1/4 Avocado, Sliced

with diced tomato and

reduced fat Feta Cheese
Lunch- 397 Calories Split Pea and Ham Soup 1 cup Red Grapes
Snack- 134 Calories1/2 cup Natural Applesauce1/3  cup Quaker Oatmeal Squares Cereal
Dinner- 511 calories Indian Chicken and Vegetables 2/3 cup Brown Rice1 piece Simple Naan


Total Calories = 1638