B6 helps in increasing the production of hemoglobin in the bloodstream. There must be a proper balance of electrolytes in the cells in the body and this is managed by the potassium content in the navel orange. Magnesium present in the fruit reduces blood pressure levels, and the beta-carotene aids the body in preventing cell damage.

The calcium content in the navel orange encourages healthy development of bones and the vitamin
Heat wave here in east coast is almost set to bake us, temperature roaring over 90 degree's F, almost limits outdoor activities or any prolonged physical activity with kids, like going to park or beach or even sending them to playground camps as limiting sun exposure during days like such from sunstroke, heat cramps and exhaustion. So we are home enjoying movies, Toy story-3, Alice in Wonderland, Avatar (once again) and gulping down gallons of juice, watermelon and cutting down on foods that increase metabolic heat production, such as proteins. A variety of fresh juices were being experimented in my kitchen and on my kids...lol..so here is the one they loved the most..Fresh navel oranges & strawberries with a hint of ginger & mint.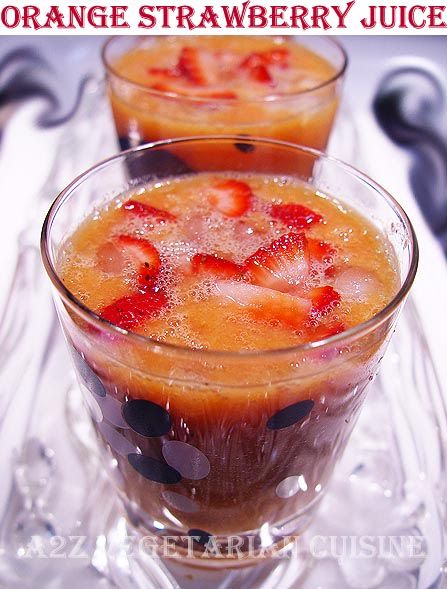 Ingredients:4 - Fresh California Navel Oranges, peeled7-8 Fresh strawberries1/2" GingerFew leaves of Mint1 Tbsp honey, (or as per need)A dash of salt & black pepper (optional)Chunks of Ice


Method:
1. In a blender/smoothie maker add all the ingredients and blend untill required consistency. Strain through a strainner (optional) I didnt, as I would never want to go fiber wasted.
2. Serve chilled immediately, with some sliced strawberries..for that special touch.


Note:The longer the procedure or more exposure to citrus fruits will destroy all the vitamin C content.