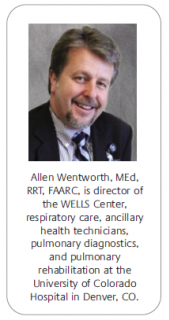 Reprinted with permission from AARC Times, © 2013 Daedalus Enterprises, Inc., a publication of the American Association for Respiratory Care, Irving, TX,

http://www.aarc.org/
Coming of Age Exercise 8 AARC Times September 2013
Helping Patients Discover the Benefits of Exercise, by Allen Wentworth, MEd, RRT, FAARC, is director of the WELLS Center, respiratory care, ancillary health technicians, pulmonary diagnostics, and pulmonary rehabilitation at the University of Colorado Hospital in Denver, CO..
.
Regular exercise has been shown to decrease mortality and age-related morbidity in older adults. However, motivating healthy older patients to exercise can be challenging enough. A whole new set of barriers exists when trying to motivate elderly patients who suffer from chronic lung disease to exercise, yet exercise is essential to improve a patient's quality of life. Respiratory therapists need to learn to individualize exercise programs to accommodate a patient's ability to exercise — be it in the home or rehabilitation programs. It's even more important for oxygen patients to understand the importance of being mobile and to utilize today's technology to assist with maintaining an active, enjoyable life.Motivating patients
Respiratory therapists can be a vital element in motivating patients to exercise. RTs should take the time to talk about the benefits of exercise and nutrition as they provide therapy. RTs have a unique opportunity to motivate patients as they have already established relationships with many of them who have had frequent admissions or visits in a pulmonary rehabilitation facility. Pulmonary rehabilitation consults should be obtained for patients who qualify. If patients don't qualify, there are many alternatives: recreation centers, gyms, malls, and home. The first step is to talk to the patient and find out what they value, like to do, or what they used to like to do. The "stages of change" model presented by Prochaska and DiClemente may be used to promote the desire to add exercise to a patient's daily activities. There are five stages: precontemplation, contemplation, preparation, action, and maintenance.
1. The precontemplation stage occurs in the newly diagnosed patient with chronic lung disease who is in the hospital or emergency department after an exacerbation. At this point they have not even considered exercise.
.
2. The contemplation stage can be the RT bringing up the possibility of increasing a patient's enjoyable daily activities. RTs can plant seeds of encouragement in the patient's mind regarding what they could possibly do.
.
3. The preparation stage is getting ready. During this stage they enroll in a pulmonary rehab program, gather a friend or two whowill walk with them in a mall, or look around their home to see what they already own they can use to exercise. Next, they needto set the start date.
.
4. The fourth stage is action. The start date has arrived. Initially, smaller incremental goals are best to set for patients and thencelebrate as they are reached. As the patient progresses, goals can stretch more, setting a final goal as the ability to bring a previously enjoyed hobby (such as fishing, golfing, dancing, bowling, sex, or whatever they previously enjoyed) back into the patient's life.
.
5. Maintenance is the final phase in which the patient focuses on maintaining exercise and activity. Ideally, in this phase exercise should become an enjoyable habit that has enabled them to improve their quality of life. Exercise becoming habitual is the single best predictor of long-term success.Usually, successful compliance with long-term exercise will be achieved by identifying and overcoming barriers to activity; recruiting a friend, spouse, or family support; and providing positive reinforcement.
.
Self-efficacy can be achieved by beginning slow and achieving short-term goals created by the patient. Understanding the patient's interests and active hobbies that they would like to be able to do again can serve as a long-term goal and improve their attitude toward exercise. Discomfort can be a barrier.
Again, start slow to avoid excessive soreness.
Vary exercise intensity and range to overcome boredom. A physical therapy consult may be required during the preparation phase to overcome a disability. Ensure rails or other objects are available to help alleviate their fear of falling. Be sure patients wear appropriate loose clothing, which will be more comfortable and will help prevent loss of balance. Using common household items can help those who are on a low income fixed budget or live in a rural setting. The most common concern of patients with chronic lung disease is dyspnea and poor tolerance to exercise. For this reason, support groups such as Better Breathers' or other clubs can get the patient interacting with people who have the same challenges. Patients are more encouraged, learn tips to overcome barriers, and receive inspiration from these groups.
.
Face-to-face interactions with other patients who have been successful
have been reported to be extremely motivational and inspire patients that they can be successful as well. Promoting exercise can be more effective when included as a part of counseling for a chronic disease.
.
Patients need to understand the positive impact exercise can have on their health. Exercise should begin as early as possible to receive the maximum benefit, but it is never too late. Exercise enhances cardiovascular fitness by improving blood pressure, decreasing coronary artery disease, and improving congestive heart failure symptoms. Exercise can decrease the risk of diabetes, improve glycemic control, and improve insulin sensitivity. Osteoporosis can improve with exercise, as well as improved function and decreased pain with osteoarthritis. Quality of sleep, improved cognitive function, decreased fatigue, and lowered depression can also occur with exercise.
.
Overcoming the big barrier: exercising with oxygen
In 1980, the Nocturnal Oxygen Therapy Trial (NOTT) demonstrated the mortality benefit of wearing oxygen continuously versus 12 hours nocturnally. The 12-month mortality rate in the nocturnal group was 20.6% versus 11.9% in the continuous use group.
The 24-month mortality
rate was 40.8% versus 22.4% respectively. Unfortunately, some patients feel that once they are required to wear oxygen it's a sentence that will limit their activity in life. It is important to help patients understand that with the correct equipment and a well-developed exercise program,
patients can return to activities they have enjoyed throughout their life.
Patients must work closely with their home oxygen company, advocating for the proper equipment they
need to stay mobile.
.
RTs must take an active role, as well, and advocate for these patients. As home care companies face more reimbursement challenges, we must ensure the customer's needs are met. There have been many advances over the past 20+ years regarding both the oxygen source and the delivery devices. Oxygen sources in the home began with pressurizedcylinders of various sizes and are still used today. Liquid oxygen (LOX) came on the scene with the advantages that it can be stored, transported, and trans-filled more easily. Additionally, one liter of LOX produces 860 liters of gas, which makes it a concentrated, efficient oxygen source and important for the mobile patient. Oxygen concentrators came on the market in the mid-1970s, providing a convenient system for extracting oxygen from room air by using electricity. There are also home-fill systems that provide a mechanism for concentrators to fill smaller cylinders for mobility. In the mid-1990s, portable oxygen concentrators made being a mobile patient even easier. These are small, lightweight concentrators that can be carried easily. RTs must ensure they know the advantages and disadvantages of these systems (as it relates to each individual patient's needs), educating their patients as they are set up with the equipment.
.
Delivery devices have made advances, as well. Nasal catheters were replaced with nasal cannulas and masks, with nasal cannulas still the most common today. However, there are other systems available.
Oxy-View™ (Transtracheal Systems, Englewood, CO) oxygen therapyeyeglasses with a built-in cannula are available for the selfconscious.
.
Transtracheal oxygen catheters can be used to reduce the flow requirements but also can conceal the useof oxygen.
Very recently, the OxyArm™ (Southmedic Inc., Barrie, ON, Canada) entered the market. This is a device that looks like a Bluetooth headset that allows a plume of oxygen to be blown over the patient's mouth and nose.
Devices that interact with a patient's respiratory pattern have been beneficial in meeting a patient's oxygenation and ventilation demands during exercise. Intermittent flow regulators, which usually interface with oxygen cylinders, conserve gas and allow for oxygen flow to occur only as the patient inhales.
The main benefit of this device regarding exercise or increased activities is that it maintains a more constant fraction of inspired oxygen (FIO2) regardless of the patient's minute ventilation. Additionally, there are pressurized oxygen delivery systems that are portable and function like bi-level positive airway pressure, enhancing ventilation. All of these devices, from a source gas to delivery and
pulsating devices, can provide benefits to assist the patient in overcoming dyspnea and improving exercise tolerance.
Each patient should be assessed with their equipment to ensure it meets their needs. These devices provide the patient with tools to assist with their self efficacy and motivation to exercise.
.
Exercise environments
Although there are conveniences associated with using specialized equipment in a gym, there are many items at home that patients can use in an effective exercise program. Whether patients are extroverted or introverted will greatly affect their compliance with a group exercise class versus a home program. Pulmonary rehabilitation programs may be lacking in some rural areas, thus limiting access. However, there are studies assessing the use of telemedicine to interface with a hospital or physician's office to provide monitoring of patient exercise. Although a rehabilitation program may not be available, it does not mean the patient cannot exercise.
.
Disease management and education, nutrition, and an individualized exercise program can be developed in a physician's office, prior to discharge, over the phone, or online.
Exercise does not have to occur in a gym.
There are plenty of household items that can be utilized in exercise:• Patients can use resistance bands or cans of food for resistance training to increase their muscle tone and strength. • Patients can use chairs to do squats by sitting down and standing up again. As they progress, they can use the chair or handrail to balance and squat further down. • Chairs can be used for push-ups, leg raises, or leg extensions.• Climbing stairs is a good way for patients to exercise as their tolerance allows. • Additionally, walking is always good and can be done anywhere.
There is no reason why a patient cannot exercise at home. Although exercise can be accomplished at home, keep in mind that patients may receive more benefit if they exercise with other patients. However, exercise —regardless of the location — can provide a benefit and improve the patient's quality of life.
.
Helping patients help themselves
Respiratory therapists are in a unique position to assess, intervene, educate, motivate, and bring patients together to improve their quality of life. RTs must have the passion to be proactive and help patients deal with their barriers and live life, and teaching them to exercise is just the first step. RTs must provide patients with numerous resources, such as www.YourLungHealth.org . Support groups must be started in communities where they don't exist. Bringing patients together helps them realize that they are not alone. . It inspires patients to see other patients who have improved their quality of life and are talking about enjoying activities they thought they would never again experience. Many patients will express that one of their biggest inspirations was speaking with other patients who have learned to successfully live again. RTs must have the passion to be proactive and help patients deal with their barriers and live life. Teaching them to exercise is just the first step.
.
EDITOR'S NOTEAllen Wentworth is not affiliated with any of the products or companies mentioned in this article.REFERENCES1. American College of Sports Medicine Position Stand. Exercise and physical activity for older adults. Med Sci Sports Exerc 1998; 30(6):992-1008.2. Current Nursing website. Prochaska JO, DiClemente CC.
Stages of change model/transtheoretical model (TTM).Available at: http://currentnursing.com/nursing_theory/transtheoretical_model.html Accessed June 14, 20133. Nied RJ, Franklin B. Promoting and prescribing exercise for theelderly. Am Fam Physician 2002; 65(3):419-426.4. Continuous or nocturnal oxygen therapy in hypoxemic chronic obstructive lung disease: a clinical trial. Ann Intern Med 1980;93(3):391-398.5. McCoy RW. Options for home oxygen therapy equipment: storageand metering of oxygen in the home. Respir Care 2013; 58(1):65-85
.
Our professional doctors and respiratory therapist try to help us... it is time we work hard to help ourselves by trying to do what they KNOW works. I know it works, I have done "rehab" exercises for 10+ years now- and try to do more each day even at age 75. bold letters are mine, Keep moving,
Lyn (Roxlyn G. Cole) Littleton Colorado roxlyngcd@comcast.net
Link for this post http://www.wellsphere.com/editGroupPost.s?groupId=211962&categoryId=3&returnUrl=