My favorite item in her shop are these scripture memory cards!  Aren't they beautiful??  Sure beats the scrawled up spiral bound index cards I carry around in my purse!  Wouldn't they make an encouraging gift to a friend?? 
The Paper Spindle also offers the option to customize a set of memory cards with scripture of your choice!  These cards come 5 to a set, are printed on heavy card stock, and bound with a metal ring.
She is also starting to offer some sweet handmade stationary that I'm sure you'll love!
You can find The Paper Spindle through Etsy and facebook!
Etsy- 
http://www.etsy.com/shop/thePaperSpindle
Facebook-
https://www.facebook.com/ThePaperSpindle?ref=stream#!/ThePaperSpindle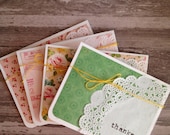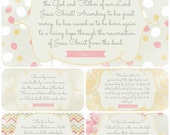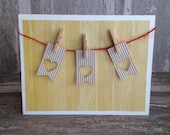 --Winners will be announced on this post Monday!
And as a special treat...
The Paper Spindle
 is offering a 20% discount on all orders over the weekend with special discount code:
 BLESSED20
at checkout!