Seven years ago today at the Medical University of South Carolina our family was blessed with a new addition. Caden was born via C-Section early that Tuesday morning as the presidential election began that would result in the re-election of George W. Bush to a second term. The picture to the right is of Sherry holding Caden for a few minutes while he was off the respirator about 12 hours after his birth. Sherry and Caden both with IVs and Caden also with central lines inserted into his umbilical, heart telemetry, and other stnadds newborn monitors. The visit was cut short when Caden stopped breathing and had to be intubated while we waited just outside the NICU.
Sherry was only 36 weeks and 4 days into her pregnancy when she had the C-Section.  She had experienced a couple of hospitalizations and two amnio fluid draws in recent weeks due to complications. We would later learn that Caden's lack of ability to swallow in utero was causing excess amniotic fluid that resulted in Sherry's uterus measuring 52cm at 34 weeks into the pregnancy which led to extreme pain and bed rest. She had to sleep upright (mostly on the couch) for the last few weeks of the pregnancy. Two separate fluid draws to reduce her size and relieve the pain resulted in more than two liters of amniotic fluid being drawn off in the last two weeks before Caden was born. The fluid draw did allow for a sample to be tested to confirm before Caden's birth that he would have an underlying diagnosis of a genetic deletion called 22Q11.2 commonly referred to as DiGeorge Syndrome.
Caden was later moved  from the MUSC NICU to the pediatric cardiology intensive care unit (PCICU). At the time this was an eight bed unit that was busting at the seams with patients. We would later learn that on average when you walked into that unit and looked at the eight kids you were seeing one that would not leave the hospital alive. We would learn the hard way how serious of a place this actually was in the days ahead. Caden had to wait a few days until a bed was available in the PCICU. Caden's surgery priority got bumped up and things began to progress. We learned later that there was a fairly heated debate going on behind the scenes as to whether Caden was strong enough to survive surgery. We are fairly certain that the cardio-thoracic surgeon made the final call and said that Caden could survive the surgery. Caden would not have lived much longer without the first open-heart surgery at six days old.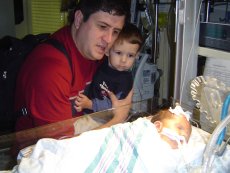 At that time Riley had just turned 2 years old a few weeks earlier. We did not realize it at the time, but the PCICU staff let Riley come in to meet Caden because they were not sure Riley would ever get to see his brother alive if they didn't allow it. Policy strictly prohibited children under 12 years old from entering the pediatric ICUs.
At six days old Caden would get his first and technically his second open heart surgeries. The first was planned for months before his birth and went about as good as we could have hoped for. A few hours after the surgery Caden began to experience inflammation around his heart. They tried inserting another chest drain tube but that was not enough. His heart was swelling to a point that it was affecting the hearts functionality. One of the doctors came out and told us they were working on Caden and would likely have to open his chest back up to relieve the pressure. A while later the surgeon had a conversation with us that left us is shock. He spoke those dreaded words, "I have done all that I can do." We thought we were going to lose him that night. Thank God He had other plans for Caden. We have had other brushes with death since and will never in this life understand all that God is doing with Caden and our family. One thing that we do know is that God has blessed us with a beautiful, happy, silly, easy-going, and super brave little boy. And for that we are eternally grateful.
Here is what Sherry had to say on her Facebook status tonight as she was reflecting on what she was thinking on this night seven years ago:
"Seven years ago tonight I lay awake excited and anxious with so many questions swirling in my mind…would the doctors be right?, would Caden need heart surgery?, just what [exactly] does DiGeorge Syndrome LOOK like?, is it too early for him to be born (at 36 1/2 weeks), and yes even that awful question of whether or not Caden would survive, was in the forefront of my mind. I look back at all Jesus has done and am completely amazed! Even more amazing is realizing how blessed WE are because of my special son! We chose life (and would do so again)!
HAPPY BIRTHDAY PUNKY!!!"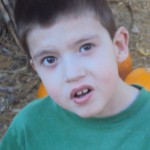 I have to admit that on many occasions I had a very difficult time imagining seeing Caden reach his 1st birthday much less his 3rd, then 4th, and then 5th, and now a 7th birthday!!! God is bigger than anything this child has faced and I continue to be amazed. Caden has endured and continues to endure much in his life. In the past seven years, that sometimes seem like a few days and on other occasions has felt like a few hundred years, Caden has experienced multiple major surgeries. I have a hard time keeping track. The things I can recall off the top of my head are as follows in terms of what would be considered major surgeries:
5 – Open heart surgeries for (IAA Type B, VSD, ASD, Ross Procedure, Pacemaker, oversized PDA, and aortic stenosis)
1 – Heart catheter (went into cardiac arrest during this one and had chest compressions)
3 – Back surgeries to place and adjust VEPTR rods for scoliosis
1 – Stomach surgery for a Nissen Fundoplication and G-tube placement
1 – Neck surgery for a cricopharyngeal myotomy to try to help him swallow
A recent cardiology appointment resulted in no change in Caden's heart conditions that they are tracking. Praise God that means there will not be another open heart surgery in the very near future. We were nervous going into that appointment given the progression of things reported in the last cardiology clinic visit. We have been told that Caden will need another open heart surgery at some point to replace both his pulmonary and aortic valves. Caden also has to endure back surgeries every six to nine months to adjust the rods in his back.
Caden has also been through countless outpatient surgeries, many required to performed in the  main operating room, and quite a few came with inpatient stays. Some of the procedures included:
Ear tubes
sphincter plasty
EGD with dilation
Adenoids
Botox injections of UES and saliva glands
Caden has also been hospitalize on average about one month per year since birth for surgeries mentioned above and many illnesses including:
RSV (twice in one year)
Fever of unknown origin (their words not mine)
Pneumonia caused by H1N1 (22 days in 2009)
upper respiratory infection
Chronic pneumonia (twice in 2011)
In addition to the above Caden has on average taken 3-5 tube feedings each day since birth. He has never shown signs of even swallowing his own saliva. He has been on oxygen at night and sometimes during the day for over six months. He gets 3-4 therapy sessions per week and sees more than a half dozen clinics at MUSC regularly in addition to his pediatrician and dentist. He has experienced some developmental delays in speech, fine/gross motor and learning ability. Thank God that Caden is mentally whole and physically capable of functioning as most of the rest of us even of his stamina and strength are a little weak at times. And to think I was worried about his left pinky finger not being able to straighten out. That is still the case today and is such a trivial little thing that I hardly ever notice.
I'll close with short note and a prayer for Caden. The Happy BIrthday Note to Caden is posted on Daddy Life .
"14For this reason I kneel before the Father, 15 from whom every family in heaven and on earth derives its name. 16 I pray that out of his glorious riches he may strengthen you with power through his Spirit in your inner being, 17 so that Christ may dwell in your hearts through faith. And I pray that you, being rooted and established in love, 18 may have power, together with all the Lord's holy people, to grasp how wide and long and high and deep is the love of Christ, 19and to know this love that surpasses knowledgethat you may be filled to the measure of all the fullness of God.20 Now to him who is able to do immeasurably more than all we ask or imagine, according to his power that is at work within us, 21 to him be glory in the church and in Christ Jesus throughout all generations, for ever and ever! Amen." Ephesians 3:14-21 (NIV)