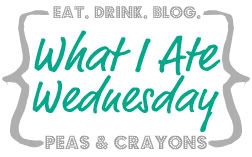 I'm going to start participating in What I Ate Wednesdays as a way to motivate my running and healthy eating. For those of you new to the blog, I'm gluten-free and I live in India. I'm training for a half marathon in August. (We do have a housekeeper here in India who does some wonderful cooking for us. But I also have her do a lot of the prep work -- like chopping the veggies -- and do the cooking myself, often with the help of my almost-two-year-old daughter.)
Here's a summary of my Tuesday.
Breakfast: Two banana-coconut muffins baked with the modified Pamela's gluten-free pancake mix banana bread recipe. Coffee with milk.
I took Muffin to school and then met the playgroup moms at our weekly breakfast date. I had two unsweetened iced coffees with milk and a small plate of bacon.
Lunch: A pizza bagel with half an Udi's gluten-free bagel, tomato sauce, and feta cheese (still sipping one of my previously mentioned iced coffees) and an apple.
Snack: Homemade baba ganoush (from the