Father and son out for a Sunday ride. From Geekstir.com
Bobba Fett goes cargo bike. Image by Mike Joos via Awesomenator.com
Looks like the Empire is running 29ers! Image by Mike Joos via Awesomenator.com
Gonna be hard to Punch It! Chewy with those rims.Image by Mike Joos via Awesomenator.com
Darth, on the other hand, looks like he's ready for bike polo! Image by Mike Joos via Awesomenator.com
Han and Chewy hit the trails. From Cyclelicious.
It took Vader a while to get the right wheel selection. From Empoz.com.
A best dressed from the Star Trek Vs. Star Wars Pedalpalooza ride in Portland. From describetheruckus.com
There is nothing to see here. Move along. From Unrealitymag.com. Click image to see Trooper taking transit too.
Apparently, clone troopers are fixie hipsters in their down time. From Fixed or Die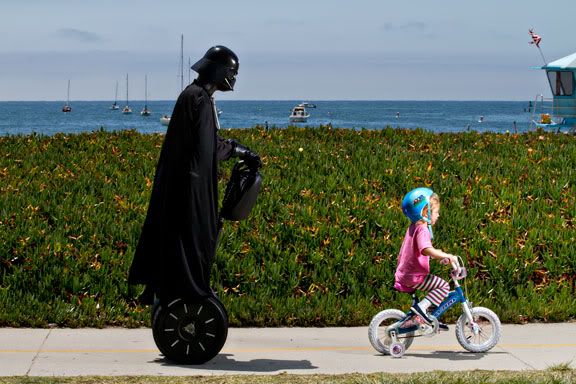 I knew the Empire was behind Segways! From ImgFave.com
Finally, we end with a rousing rendition of Queen's Bicycle as sung by the Imperial Trooper choir.