Yup, you mothers of young girls guessed it.  We headed to NYC to the American Girl Doll Store!


The girls live in a bubble.  They have travelled very little - Virginia, Maine and Boston by car (which they don't remember because they were too little), and since they have been older, Washington DC and PA.  I guess the drive to Maryland every other weekend with CB counts, but they only get out of the car to use the bathroom at Dunkin Donuts.  
They have never been on a train,subway, light rail, large boat or plane.  Until today.   Their first train ride.


The day trip and all the trimmings were courtesy of my father - his Christmas present to the girls.  My 13 year old half-sister also came along to help with the girls, who adore her.  We ate lunch at the American Girl restaurant which is so stinkin' cute in all its girly-ness.

My dad celebrating his 70th at American Girl.... with the oldest (me) and youngest of his five children and three of his 7 grandchildren.  He hung in there all day, through the shopping and the squealing and the barrage of estrogen and pink.  This man deserves an award!

After lunch, we headed off the the "Doll Spa" where the dolls sit in mini salon chairs and have any service done from hair styling to facials to manis/pedis and even ear piercing.  My dad said they have swedish massages and liposuction in the back... I think he was kidding but I wouldn't be surprised if he wasn't. 


They then went on a mini-shopping spree for books, clothes, pets... I mean, this place is three stories of everything but the kitchen sink for a myriad of dolls (well, I think there was a kitchen sink there somewhere, actually).  It was crazy!  It was deliciously cute. I don't know, maybe people do this all the time, but it was really a once-in-a-lifetime sort of day for us. I mean, not just dropping by the store but doing the whole sha-bang from the posh Amtrack ride to the whole AG experience with spa, lunch, shopping spree.  A real special experience. 
Stopping at Bryant Park on the way back to the train. 


We left at 7:00 am and returned home close to 5:00 pm.  It was a long, exciting day.  


I was pretty exhausted myself.  I have longer legs and stronger muscles but I also got a butt-load of years on these guys.  But, no fear - I had a relaxing Sunday morning at a local winery hanging out with the hubs and some friends, but first we had to RUN the vineyard in the early morning hours - A 5 mile race (not 5K, 5 miles.  Big 2 mile difference) which was mostly a trail run winding through the vineyards. The things I'll do for wine. And, my husband's company.  Bless his heart, he ran with me the whole time even though he could have gone much faster.  It definitely makes the race more fun having someone to chat and laugh with while you're quasi-dying.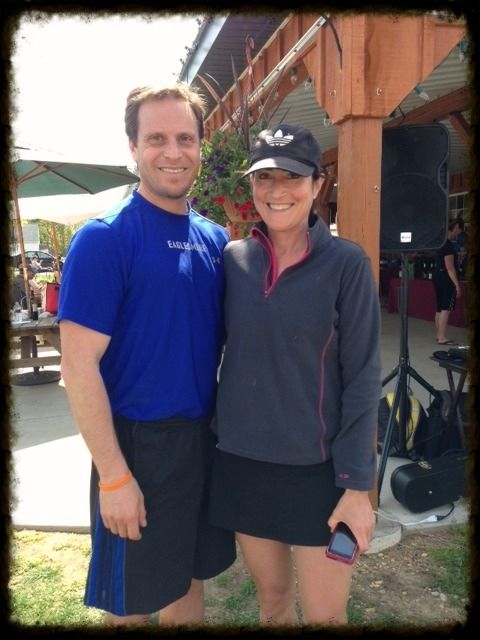 It was fun - gorgeous day, perfect running weather. Music and wine afterward.  Our friend Brian won third overall out of 404 finishers.  We felt all famous just knowing him.  It was like, we were vicariously fast because we were hanging out with him.
That evening, I drove to Maryland to pick up CB... 
It was a full, full, full weekend after a full week leading into another full week.  
I'm so sleepy right now. Like, bone-tired.
But hey, it was all good stuff.  Can't complain! But I can go to bed.  Good night!!