This has been the summer of reading comprehension and while its a long journey we are definitely making headway
What is equally impt I think is that he LOVES books - I am so glad for books have always been my haven
One night when I ask him to pick what books he would like to read, he chooses this great pile of 27 books !!!
I often wonder how much he understands for he often categorizes books based on his own agenda - rather than on the story
So for instance , he will point to a picture of a furry lynx and say - "snow" and then at the Great Bengal Tiger and says "no snow "
But when I am reading the story of the "The Invisible Moose" he cries as though his heart will break when the beautiful moose is stolen .
And when she is found again, he jumps up and down on his bed happily!
I think of the scene in Strange Son when the dad finally realises how much his son comprehends while seeming uncomprehending and asks him
"Dov what were you doing all these years "
Dov types back "Listening"
It gives me the goose-bumps when I read this and I often think of R with apraxia and how important it is to presume intellect
Trip to Atlanta 
I have a work trip and DH and R come along as the Great Coke museum is there as this beverage  is R's current obsession
We stay in a hotel in Centennial Park - can you see the CNN building in the background
( probably the high point of R's Trip )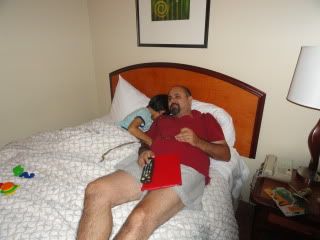 R snuggles with a rubber snake and DH  and I skeeve all my friends out by uploading a picture of him kissing the - most realistic snake that it is !!
Though R has been obsessed with Coke for a while - when he goes to the Coke museum he is done in 10 minutes .


( he talks about it for days later  though )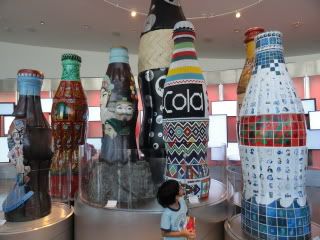 I hear him talking to his therapist the other day  -Papa takes me to Statue Of Liberty and Coke Museum
while  Mama take him to "Starbucks"-

Way to make me sound weak !!!

Friends

We spend a lot of time with friends in July and August

We have a bunch of friends that spend the weekend with us at the cabin


I simply love the way R is completely accepted by all my close friends .

R is so comfortable with these wonderful little girls . These are the first few children he actually seeks out

They take their various screens go into the bedroom and close the door behind them

So giddy are the three of them ( though R really is not interacting per se ) that when I and my friend go to make up a air-bed for the girls - the kids keep jumping on the bed

As soon as we get one child  off , another leaps on the bed

My friend and I start to laugh and laugh

So we give up and come back later when they all have calmed down somewhat !



In Atlanta we visit another old  friend's. home- she was my roomate in grad school and we have stayed close ever since to her and her dogs

Their house is gorgeous and has a swimming pool and a  river close by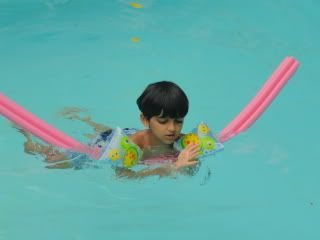 And R - water child as he is has a lovely time in this gorgeous place


The beginning of school 



Is always incredibly stressful for both me and R.




But that time is here now and we must make the most of it

My friends always compliment me on how much I live in the moment and appreciate life

I seem to be a great optimist

But sometimes I wonder if I am a pessimist in disguise



For the person who really treasures their present , is also the person who is aware of how fragile it is




Each day as I leave for work, I watch R and DH sleeping, turned to each other - like a big C and a little c.  I listen to their breathing, thankful to God - that my precious ones are with me




Each time I hear my family's voice on the phone or read their words over an email - I think - thank you god they are still with me .( for my parents growing older,the little time I get with my sister  breaks my heart )




Though I am so enjoying R's childhood,


Always behind this great joy, is the feeling that its slipping away

That soon I will no longer be able to be the source of joy that I am now



That one day, he will see himself through eyes not as adoring as mine




I think, in  counting the weekly hours of therapy and measuring progress, there is a very real danger of missing these precious childhood years


Dear reader if you have stayed with me this long - thank you

I started this blog as a sort of stern voice and record for my floortime sessions





It has long transcended that purpose

It has become  way to connect with myself and be  the keeper of my memories



But its also become a way to connect with other mothers and fathers like you




When I write these posts, I  think of the little boy of Tagore's poem "Paper Boats.




 In this poem, a little boy, floats paper boats, after writing his name on them -hoping someone will find them


Paper Boats  by Tagore 


Day by day I float my paper boats one by one down the running stream.


In big black letters I write my name on them and the name of the village where I live.


I hope that someone in some strange land will find them and know who I am.

When night comes, I bury my face in my arms and dream that my paper boats float on and on under the midnight stars.





The fairies of sleep are sailing in them, and the lading is their baskets full of dream