I  think of how universal mother hood is 
There is a small complex behind my MIL's house where her maids and their families  live . 
 ( I can hear you saying la di da. Please don't think we are high and mighty or anything like that  - this is a very normal practice in India for well-off families  and  my MIL is a good employer.  In India - electricity and water are precious commodities. For instance, one never takes a bath in India. One uses a bucket of hot water and a mug to pour water over oneself as it would be sacrilegious to waste water in a bath tub. But services are very affordable )


From those apartments,  comes  the voice of my MIL's maid 
"beta kha le ( son eat please ) 
Her  2 year old son's wails .."nahi "( no ) 
She cajoles  "mera accha beta hai na " ( aren't you mygood son? )
How is it that  mothers and children all over the world speak in the sameway?
 Who tells us what to say?
But there are also differences
Indian mums are a slap-happy lot
Later I find the same maid giving her toddler two sharpslaps for some infringement
She forgets her anger quickly and oils his hair and chubby little body lovingly inthe sun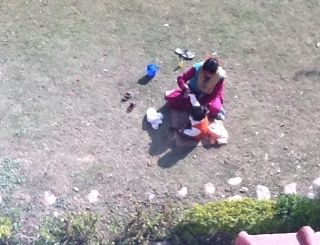 One of the dog whines to get in 
I let him in and he joins us on the roof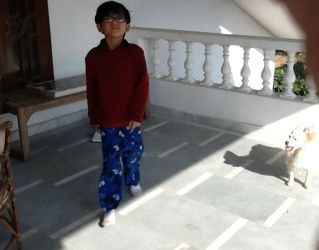 Later on the dog gets scolded as she  gets into the kitchen and eats up all the meat that my MIL has bought specially from the butcher for lunch 
 I tell R about what she has done 
R loves when others are in trouble and takes pleasure in pointing out the bad dog and the good dog  
R and I spend the morning doing silly things like making faces in the mirror ( him ) and reading books ( me)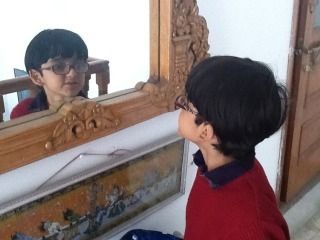 We practice writing a couple of essays 
I will do a post on Reading Comprehension as this is what we are working on and R needs a lot of help with this 
The idea is that he suggests a topic and then gives me some words relating to the topic 
Then I turn the words into sentences 
So he suggests" India " and gives me some words - I turn them into sentences with help from him 
Here is our essay 
INDIA 
Grandma and aunt live in dwarka ( a neighborhood in Delhi where my MIL has an apartment ) 
Women in India wear Sari 
We came to India at theAirport 
 Our plane was a United plane 
R went to sleep in the plane.
Another time at the   airport we took airtran and Delta last year this time  we stayed at the Hilton double tree.Granma and aunt and Granpa live in India 
Golu kuku ( my sister's kids) also live in India. 
But golu kuku don't live in dwarka 
Golu kuku also live in a house 
There are no bathtubs in India 
In India I don't go to school
( I wish i had continues with working with R more but the rest of the trip is very hectic and I am very distracted) 
 In the afternoon, everyone returns and I and our uncle go to pick up my SIL at her special needs school -
I buy some spices- which is part of the project work that the school does !
We eat lunch out in the sun that my MIL prepared with some assistance from her maids early in the morning 
DH and I go out for a quick shopping trip
All shops are specialty store what you would call "mom and pop stores " here in the US
R and I look for Coke and Sprite in a sweet shop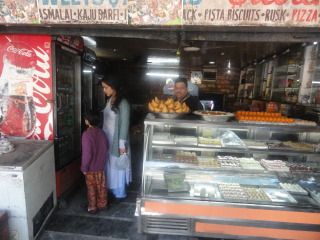 Fresh produce is sold in stalls like this




Though the wal-mart-esque stores are coming up - these specialty stores  are what are most common

DH stops at his tailor shop ( the one he has been going to from when he was a small boy at the Doon Boarding School based here in Dehradun  )

The name of the shop always makes me smile .

Evidently its meant to connote a gentlemanly countenance for its clientele

As soon as the sun sets it becomes terribly cold ( allIndian houses are designed to withstand the terrible summers ) 
 My MIL's houseis all marble (which  feels lovely when you walk barefoot in the summer on it but now is like being in a refrigerator) 
In the evening DH and I go off to his friend's house toeat dinner 
They are planning out their Doon School 25th year reunion ( for this DH will come back in October alone- I am already missing him in anticipation  ) 
His friend hasmade a fireplace outside and we all sit around it 
In many ways, its like any barbecue we would have herein the west 
However, there are a few differences .
First, there is an unwritten rule in the west that onlyone man - the host-"mans" the grill
They are constantly chidingeach other's efforts as "smoke-raising" while praising their own contribution.
There is a man - servant who runs around serving everything and sothe host and hostess are free to chat !
The food in different ( no salsa- chips ,chip and dip, no hummus.. Instead there are raw veggies served with lime andsalt, peanuts in their shells and Spicy chips - which they call wafers ) 
We move inside the house for dinner. Thedinner is fully vegetarian and has also been prepared by their cook .
One of my friends moved back to India from the states and was surprised to find how much she liked hosting parties once she started living in India ( no surprise to me though- what's not to like about being a gracious host when other people are doing everything for you ? )
Theconversation too - I bet you would find eclectic -Our host and hostess are very very charming and gracious 
The hostess's son had health issues  and she describes all the effortsthey took to help him.
Besides going to a regular doctor  -she also went to  a reiki master, and a homeopathic doctor.
She  considered doing  a past life regression 
( a little note onthis last thing-   Hindus believe inreincarnation. That means that each soul is born many times etc till you attain nirvana and become one with God.
In the way that psychologists believe that you cannot move onwithout resolving issues that have happened in your past . 
In the same waypeople who do PAST LIFE REGRESSION believe that you need to resolve the issuesin your past life before you can move on )
 Its midnite by the time we leave andI am really worried that R will be upset
 ( I have been hinting with eyes at DHfor the past hour that we should leave.

In the car,  I berate him for ignore mysilents pleas- he claims that every time he looked at me I was busy stuffing myface and gave him no hints at all !!) 

My fears ( that I will find R weeping in waiting ) are unfounded 
 R has had a greattime with MIL and SIL who have given him the royal treatment .Everybody has gone to sleep and we have to spend quite a bit of time outside while MIL wakes up and lets us in !
He has beenallowed to do all sorts of forbidden things ( such as eat and drink in bed )and is snuggled up with them fast asleep 
I bathe( not in a bathtub but with a bucket of hot water )  and change. Then I go  and pick up his warm body up from their bed and marvel asto how a skinny runt  like R is soimmeasurablly cuddly 
He opens his eyes when I put him on our bed as the sheetsare cool to the touch.
 "all done bye bye mama" he says settling  on my shoulder.
"That's right sweetangel" he adds ( This is my usual reply to him when I agree with what hesays.  If I  am a minute late in replying - he supplies myanswer himself )
"That's right sweet angel "  I confirm
"You are the best part of our day" I tell him
 And the day is done